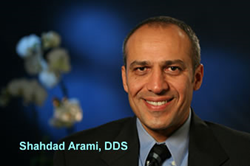 Northridge, CA (PRWEB) May 23, 2014
Northridge cosmetic dentist, Dr. Shahdad Arami at Northridge Dental Group, is now offering a Wedding Season Special just for brides and grooms. From now until August 31, 2014, happy couples can take advantage of the special $149 pricing for Boost Whitening on Tuesdays and Thursdays. Northridge dentist Dr. Arami can use Boost Whitening to dramatically lighten the color of teeth.
About Dr. Shahdad Arami, Expert in Teeth Whitening Northridge
Dr. Shahdad Arami is a top Northridge dentist. After graduating from the UCLA School of Dentistry in 1993, Dr. Arami completed his general practice residency, during which he focused his treatment on medically compromised and phobic patients. He has continued his studies in the fields of aesthetic and implant dentistry. Today, Dr. Arami is a member of the California Dental Association and the American Dental Association.
About Dr. Farshid Ariz, Dentist Norhtridge
Northridge dental implants expert, Dr. Farshid Ariz, graduated from Boston University School of Dentistry in 1989 and earned his Certification in Advanced Graduate Studies in Periodontics in 1991. He is skilled in several areas of dentistry, including aesthetic implant surgery, oral implantology, aesthetic periodontal therapy and full mouth reconstruction. Dr. Ariz is an assistant professor at the University of Southern California School of Dentistry, and he is a member of the American Academy of Periodontology and the American Academy of Osseointegration.
Boost Whitening is a potent in-office whitening treatment that is applied directly to the teeth. It can be used to bleach common stains such as coffee, tea, wine and soft drinks. However, it is also extremely effective on teeth that have internal discolorations due to medical treatments, disease, injury, dental fluorosis and certain medications. Teeth even continue the lightening process over the next several hours for a dramatically brighter smile. Patients can keep their newly whitened smiles brighter longer by avoiding stain-causing foods and beverages, brushing and flossing regularly and using touch-up kits as necessary.
Other treatments are available to enhance or even transform smiles in time for wedding season. Tooth-colored fillings, porcelain crowns and other restorations can be used to replace old, worn or metal fillings and restorations. Dental bonding can be used to correct minor flaws, and porcelain veneers can create an entirely new, stain-resistant smile without bothersome flaws. Each patient will be provided with a personalized treatment plan that focuses on his or her specific needs and goals.