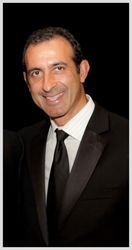 Northridge, CA (PRWEB) June 10, 2015
Northridge dentist, Dr. Farshid Ariz, is now offering complimentary dental implant consultations for those interested in getting dental implants. More than 30 million Americans have lost all their teeth in one or both arches, but only 10 percent of them currently have dental implants. Implants are a type of restoration that replaces the root and crown of the lost tooth, which allows for better bone and dental health. The success rate for this procedure is about 98 percent, and nearly anyone who has lost one or more teeth is a candidate for implants.
Dr. Ariz, dental implants dentist, offers comprehensive dental care, including dental implants, dental surgery, periodontal care, restorative dentistry, root canal treatments, Invisalign, tooth-colored fillings, teeth whitening, porcelain veneers and smile makeovers. "Our practice has been here for over 17 years and has been devoted to restoring and enhancing the natural beauty of your smile," his team explains. The office features the latest digital radiology equipment that dramatically reduces patient exposure, and uses the most advanced techniques and treatments. Dr. Ariz' team is friendly, welcoming and compassionate, and will work to ensure each patient is provided with the care they need.
A complimentary consultation can be an excellent opportunity for interested patients to learn more about their options. During the consultation, patients can:

Learn how dental implants work
Ask questions about their treatment options
Determine their candidacy for the procedure
Get started on a new smile
"We strive to provide dental health care versus disease care … Not only are we focused on the beauty of your smile; we're also concerned about your overall health," Dr. Ariz's staff explains.
About Dr. Farshid Ariz, Oral Surgeon Northridge
As a graduate of Boston University's School of Dentistry, Dr. Ariz, periodontist, continued his studies in the field of periodontics, in which he received a Certificate of Advanced Graduate Studies in 1991. He is considered an expert in the field and holds the title of Assistant Professor to Advanced Periodontics at USC's School of Dentistry. Dr. Farshid is a member of the American Academy of Periodontology and the American Academy of Osseointegration.