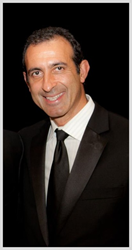 Northridge, CA (PRWEB) June 27, 2014
Northridge dentist, Dr. Farshid Ariz, is now offering complimentary consultations for dental implants. Dental implants can be one of the healthiest ways to replace missing teeth. These artificial tooth roots are made with titanium for a highly biocompatible restoration that has a success rate of over 95 percent. The implants are inserted into the jaw, and the bone fuses, or osseointegrates, with the titanium rod. Once the bone has healed, the implant can be used with a crown, dental bridge or denture for a fully customized solution.
About Dr. Farshid Ariz, Expert in Dental Implants Northridge
Dr. Farshid Ariz, Northridge oral surgeon, graduated from Boston University's School of Dentistry in 1989 and continued his education in the field of periodontics. In 1991, he received his Certification in Advanced Graduate Studies in Periodontics. He is experienced in implant surgery, implantology, aesthetic periodontal therapy and full mouth reconstruction. Dr. Ariz is an assistant professor at USC's School of Dentistry and is a member of the American Academy of Periodontology, the American Academy of Osseointegration and the Medical Review Institute of America, Inc.
About Dr. Shahdad Arami, Expert in Teeth Whitening Northridge
Dr. Shahdad Arami graduated from UCLA's School of Dentistry in 1993. During his general practice residency, he concentrated on treating medically compromised and phobic patients and has pursued advanced training in the fields of implant and aesthetic dentistry. Today, Dr. Arami is a member of the California Dental Association and the American Dental Association.
Most people with good dental health are candidates for dental implants if they are missing one tooth or many teeth. Patients with systemic illnesses such as diabetes or high blood pressure may need to ensure that their conditions are well-controlled to reduce the risk of complications. Some patients may need to undergo additional procedures to ensure the success of their implants. Northridge dentist Dr. Ariz offers extensive treatment options when it comes to dental implants and can help patients create a treatment plan that benefits their smiles and improves their lives.
Once implants have been restored, patients can use them just like their own teeth. They can eat their favorite foods, speak and smile with confidence and brush and floss without the need for any special tools or complicated procedures. The implants also protect the jawbone and keep it strong and healthy.