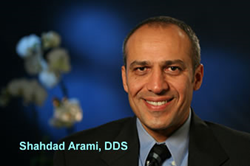 Northridge, CA (PRWEB) February 02, 2015
Northridge Dental Group now offers treatment options specifically for special needs patients. Northridge dentist, Dr. Arami, specializes in treating patients with special needs and can ensure they get the care they need to enjoy good dental health. About 20 percent of the population has developmental, physical, or intellectual disabilities that can affect their everyday lives. These disabilities may also interfere with a person's ability to get dental care. These patients have special needs that must be addressed, which can include dental hygiene counseling, treatments, and anxiety relief.
Patients who may benefit from a little extra TLC include those with:

Multiple sclerosis
Autism
Genetic disorders
Downs syndrome
Alzheimer's disease or dementia
Damage from stroke
Behavioral disorders
Paralysis
Diabetes
Arthritis
Psychiatric disorders
Extreme dental anxiety or phobia
Cerebral palsy
Epilepsy
Immune disorders or diseases
Pulmonary problems
Heart disease
Treatment options are extensive, and Northridge dentist, Dr. Arami, offers gentle, compassionate care, including routine exams, cleanings, dental fillings, porcelain crowns, oral surgery, and cosmetic dentistry. According to the team at Northridge Dental Group, "The mission of our family oriented practice is to give our patients a warm, safe experience with a personal touch." Although the entire staff is happy to go the extra mile for each patient, some patients do need a little extra help. Sedation dentistry can help them feel more relaxed and better able to complete necessary treatments.
About Northridge Dental Group
Dr. Shahdad Arami graduated from UCLA's School of Dentistry and concentrated on treating phobic and medically compromised patients during his residency there. He has completed additional training in the fields of implant and aesthetic dentistry, and he is currently a member of the California Dental Association and the American Dental Association. Dr. Farshid Ariz, Northridge periodontist, graduated from the Boston University School of Dentistry. He continued his studies in the field of periodontics and earned his Certification in Advanced Graduate Studies in 1991. Today he is an Assistant Professor to Advanced Periodontics at USC's School of Dentistry and a member of the American Academy of Osseointegration.