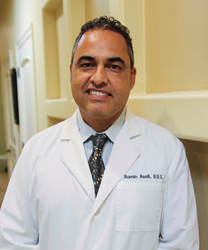 Northridge, CA (PRWEB) October 26, 2015
Northridge dentists, Dr. Elyson, and Dr. Assili announce that they are now offering discounts on dental implants, the preferred form of tooth replacement. Expiring December 31, 2015, one present offer gives patients $200 off any dental implant procedure and another reduces the price of a dental implant to $999. Both specials cannot be combined with any other offer. With these discounts, patients with missing teeth can more easily restore their oral appearance and performance with the tooth replacements that most closely emulate real teeth.
Patients who need tooth replacements can choose from traditional dentures, dental bridges and dental implants. In terms of comfort, implants surpass the others thanks to their firm stability and lack of hardware outside of the gums. Implants also can be placed without altering neighboring teeth, which are affected by bridge placement because some of their enamel must be removed. The implants never slip or click as traditional dentures sometimes do. Finally, implants can last a lifetime with just daily brushing and flossing and regular check-ups.
When patients visit Dr. Elyson and Dr. Assili, they have access to the full range of restorative and cosmetic treatments used today. Tooth-colored fillings, inlays, onlays and crowns are available. Discreet orthodontic treatment is offered through Invisalign. Periodontics, for treatment of diseased gums, and endodontics, for infected teeth, are also performed. For cosmetic improvement of flawed teeth, patients can receive teeth whitening and veneers. Patients who are interested in total rejuvenation of an imperfect smile can discuss their candidacy for a smile makeover, which is a set of individually chosen aesthetic treatments.
About Dr. Elyson and Dr. Assili, Experts in Dental Implants Northridge
Dr. Elyson and Dr. Assili both earned their undergraduate degrees from California State University, Northridge, before attending the School of Dentistry at UCLA for their DDS degrees. Throughout their careers, both dentists have expanded their dental expertise through continuing education and certifications in specialties including Invisalign, dental implants, cosmetic care and sleep apnea treatment. Today, Dr. Elyson and Dr. Assili are members of several professional organizations, including the California Dental Association (CDA) and the American Dental Association. Both dentists actively support research for the advancement of modern dental care.