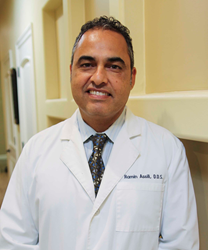 Northridge, CA (PRWEB) September 26, 2016
Northridge dentist, Dr. Assili, announces that he is currently offering promotions on dental implants for a limited time. Patients can visit Dr. Assili to receive a dental implant for $999, a significant savings off the usual price. Patients can also get $200 off any dental implant procedure, which is limited to one coupon per family. Each of these offers cannot be combined with any other offers, and both offers expire September 30, 2016. With the current promotions, patients can get the leading form of tooth replacement for a more affordable price.
Dental implants more accurately match the look, feel, and performance of natural teeth than any other tooth replacements ever have. Compared to removable dentures, dental implants are totally stationary thanks to their placement in the jaw bone. This makes implants stable when patients speak or chew. Implants are more natural looking than dental bridges, which have external hardware that can be visible and require extra brushing to keep clean. Whereas both bridges and dentures tend to require replacement over time, implants can last for life with proper care. Most adults are candidates for dental implants.
A complete selection of dental procedures is offered by Dr. Assili. General dentistry, including exams, X-rays, laser treatment, extractions, cleaning and root canal, is available. Patients can also visit Dr. Assili for cosmetic treatments, such as porcelain veneers, crowns, teeth whitening, Zoom whitening, and smile makeovers. Several restorations are available, including bonding and tooth-colored fillings, as well as inlays and onlays. Finally, the office of Dr. Assili performs children's dentistry, offers sedation dentistry, and provides treatments for both sleep apnea and TMJ, or temporomandibular joint disorder.
Dr. Assili graduated from California State University with his Bachelor of Science degree in Biochemistry in 1988. Afterwards, Dr. Assili earned his Doctorate of Dental Surgery at the University of California, Los Angeles, in 1992. An active member of several major dental organizations, including The International Congress of Oral Implantologists, Dr. Assili graduated from the Misch International Implant Institute Surgical Residency Program in 2005. Today, Dr. Assili is dedicated to helping patients have healthy, good-looking teeth and gums with the latest dental technology and techniques.