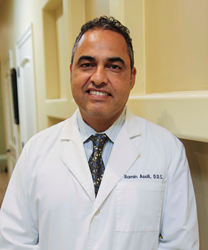 Northridge, CA (PRWEB) November 30, 2016
Northridge dentists, Dr. Assili and Dr. Elyson, announce that they now offer a comprehensive in-house dental plan for all patients. Understanding that budget can play a part in oral health maintenance, the dentists have developed a plan that gives patients a number of perks, including discounts on many valuable dental treatments. Options for individuals, couples, and families are available. With the lower treatment costs this plan provides, patients may find it easier and more affordable to improve and preserve their dental health.
The Smiles LA Dental Health Plan costs $99 for individuals, $129 for couples and $149 for families. Included are two routine dental exams per year, unlimited cleanings, any necessary X-rays, discounted cosmetic care, and priority scheduling for appointments. Free cleanings alone represents a savings of $49 for children and $69 for adults. Savings also apply to sealants, tooth-colored restorations, root canal treatment, crowns, tooth implants, and extractions. All membership information is kept on file at the office, maximizing convenience by eliminating membership cards. Members can start taking advantage of their dental health plan as soon as they sign up, and renewal is automatic a year later.
Many different procedures are offered at Smiles LA, including options in restorative dentistry, cosmetic care, endodontics, and more. The latest laser treatments are available for precision, comfort, and fast recovery. For discreet orthodontic treatment, eligible patients can receive Invisalign. Children's dentistry is provided to give kids a strong foundation for lifelong oral wellness. The dental office provides multiple sedation options for comfortable treatments for patients who need it. Sleep apnea and TMJ treatments are also offered.
Northridge dentists Dr. Elyson and Dr. Assili both earned their undergraduate degrees at California State University, Northridge. They also both earned their DDS degrees from the UCLA School of Dentistry in 1992. From 1999 until today, Dr. Assili and Dr. Elyson have completed multiple continuing education programs that have allowed them to offer patients a high level of care in the latest dental techniques. As reputable members of several organizations in their profession, Dr. Elyson and Dr. Assili are dedicated to providing high-quality care in several dental specialties.