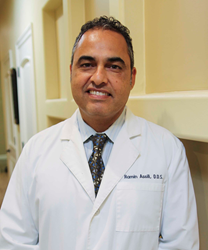 Northridge, CA (PRWEB) October 27, 2016
Northridge dentist Dr. Ramin Assili announces that he is now offering comprehensive dental treatments for children. While dental care is important for patients of all ages, it offers particular benefits for pediatric patients. Not only are children better protected from tooth decay, gum disease, and related complications when they receive regular dental care, but they are also more likely to enjoy healthier teeth and gums for life thanks to a solid foundation for oral health.
Preventive and restorative procedures are among those available for children at the office of Dr. Assili. At regular check-ups, generally scheduled every six months, children get thorough cleanings and dental exams. Dental cleanings by a professional ensures plaque and tartar elimination beyond what brushing and flossing at home can achieve. During routine exams, Dr. Assili, kids dentist, can spot a full range of oral health issues affecting the teeth and gums in addition to certain systemic issues, such as diabetes, that can manifest in the mouth. Children also can receive fillings and other restorations. These restorations can return teeth to good condition and appearance after decay, physical trauma, or other damage.
Many patients opt for dental sedation during their treatment or procedure to ease their nerves and minimize discomfort. This option is available to younger patients, as well. Dental sedation can be administered at many different levels and is considered safe by the CDA and ADA. Pediatric sedation is just as safe as sedation for adults and may help younger patients enjoy their experience at our dental office, making their appointment easier for everyone involved.
Dr. Assili performs a full range of treatments in the areas of general dentistry, cosmetic care, and more. Fillings are joined by inlays, onlays, and crowns for restorations. Cosmetic care, including teeth whitening, veneers, and bonding, can also be performed as part of a personalized makeover for comprehensive improvements. Patients can also have their teeth straightened using Invisalign, a leading discreet type of braces. Dr. Assili also provides laser dentistry, root canal treatment, and more.
Northridge dentist Dr. Assili earned his Bachelor of Science at California State University, Northridge, where he majored in Biochemistry. Afterwards, he earned his Doctorate of Dental Surgery at UCLA in 1992. A member of several reputable dental organizations, Dr. Assili has developed specialized dental skills in implantology and cosmetic dentistry through continuing education, including at the Misch Implant Institute, from which he graduated in 2005. Dr. Assili provides modern dental treatments for sleep apnea and TMJ in addition to innovative options in several other areas of dentistry.