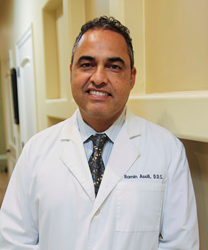 Northridge, CA (PRWEB) March 03, 2017
Northridge dentists, Dr. Elyson and Dr. Assili, announce that they are now using lasers in several dental procedures. Lasers are increasingly being used in dentistry, a field in which the properties of laser energy are highly valuable. Not only are lasers extremely precise, but their intensity allows them to cauterize wounds and destroy bacteria, reducing risk of infection. Dental procedures are benefiting from lasers in several ways, including reduced treatment time, increased comfort, and lower risks of complications.
Lasers are now being used in several dental specialties at the office of Dr. Assili and Dr. Elyson. In restorative dentistry, lasers are often used for fillings and root canal treatments. During both procedures, the antibacterial effects of the dental lasers sterilize the areas being treated, supporting a restoration without infection. Soft-tissue procedures, including gum reshaping and biopsies, are also being performed with lasers. Teeth whitening is also being improved with this tool, helping prevent gum irritation thanks to their precision, and resulting in faster, more effective activation of the peroxide bleaching compound.
In addition to their laser treatments, Dr. Elyson and Dr. Assili perform a broad range of other procedures at their office. Several preventive and general dental services are available, such as cleanings, exams, fluoride, and sealants. Restorations at the office include tooth-colored fillings, inlays, onlays, and crowns. Several cosmetic treatments are offered for improving smiles. Professional teeth whitening, for instance, can be used to eliminate or vastly reduce surface stains on teeth. Veneers are available to permanently conceal stains, chips, cracks, and minor gaps. The office also provides pediatric dentistry, orthodontics, treatments for sleep apnea and TMJ, and more.
Dr. Assili and Dr. Elyson earned their Bachelor of Science degrees in Biochemistry and Chemistry, respectively, from California State University, Northridge. Both dentists went on to earn their DDS degrees at the UCLA School of Dentistry in 1992. For more than sixteen years, the dentists have been treating patients at their office in Northridge. Dr. Assili and Dr. Elyson are reputable members of several organizations in their profession, and both have completed substantial continuing education throughout their careers in order to give patients the latest dental care options available.