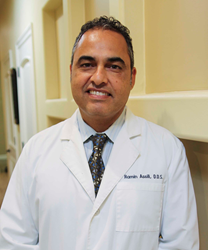 Northridge, CA (PRWEB) July 25, 2016
Northridge dentists, Dr. Elyson and Dr. Assili, announce that they are now offering a special on Invisalign for the 2016 summer season. For just $3,395, patients can receive Invisalign and get a complimentary consultation before starting treatment. This promotion expires on September 30, 2016, and cannot be combined with any other offer. With this special price on Invisalign, more patients will be able to afford one of the leading orthodontic treatments available today. In addition to receiving several advantages during treatment, Invisalign gives patients the same lifelong improvements associated with all orthodontics.
Invisalign advantages can be divided into those related to discretion, comfort, oral health support, and correction speed. There is no question that Invisalign is significantly less visible than many other types of braces, thanks to the clear aligners. The comfort of these aligners is assured by the smooth plastic and the lack of any brackets or wires. Thanks to their removability, the aligners ensure that brushing and flossing are as easy as ever, and the absence of brackets and wires prevents extra adherence of food particles to teeth. Finally, most Invisalign patients finish orthodontic treatment in an average of fifteen months rather than the twenty-four months common with metal braces.
Many treatments are provided at the office of Dr. Elyson and Dr. Assili. These include general dental care, such as tooth-colored fillings and crowns, and preventive treatments, such as fluoride and sealants. Cosmetic dentistry services include teeth whitening, veneers, and smile makeovers. Dr. Assili and Dr. Elyson also offer laser dentistry, children's dentistry, dental sedation, and treatments for sleep apnea and TMJ.
Dr. Elyson and Dr. Assili earned their undergraduate degrees at California State University, Northridge, before graduating with their DDS degrees from the UCLA School of Dentistry in 1992. For more than fifteen years, they have been reputable members of several professional organizations and have continued to build their skill sets through postgraduate training. For example, both Dr. Elyson and Dr. Assili have successfully completed residencies at the well-known Misch Dental Institute. Today, both dentists strive to give patients high-quality care for their oral health and appearance.