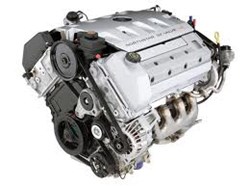 The Northstar and other V8 builds in our inventory are now under the special price terms for the duration of the year
San Francisco, CA (PRWEB) August 27, 2013
The Cadillac series from General Motors is part of the lifeblood of the luxury auto industry. The engines that are used inside of these vehicles are known for quality and dependable performance. The Got Engines company is now promoting its Northstar engine sale to buyers online at http://www.gotengines.com.
This specific engine type is used for the Cadillac and other vehicles that use these V8 builds. The previously owned Cadillac inventory of motors that has been added to by the GotEngines.com company over the past six years online is eligible for the new sale pricing in effect for buyers.
"The Northstar and other V8 builds in our inventory are now under the special price terms for the duration of the year," a salesman for the Got Engines company confirmed.
The mid-1990s change over to the Northstar platform of motors introduced General Motors vehicle owners to the different horsepower ratios and fuel economy that is available with these brands. Engine buyers having difficulty locating a low mileage engine from other retailers online could benefit from the promoted sale now setup for buyers.
"The company inventory is now rotated weekly as new supply agencies are used to produce a source of lower mileage builds mixed with better sale prices to benefit buyers," the salesman added.
The ability for consumers to obtain access to the current Northstar motors pricing online is now available on the company website.
The Got Engines toll-free number at 1-866-320-1065 still exists for offline assistance although the new methods for quotes retrieval online are now used by the majority of website visitors seeking used engines for sale online.
About GotEngines.com
The GotEngines.com used engine resources are promoted daily on the Internet. This company receives thousands of visits daily from buyers in all parts of the USA seeking low prices and warranty details for the motors that are available for sale. Diesel and gasoline types are currently provided in the company inventory for direct purchase by consumers. The arrangements with distribution companies and other partners in the auto industry has helped to build the available inventory marketed by the GotEngines.com company online. Frequent price decreases and other incentives are created and published for buyers online.