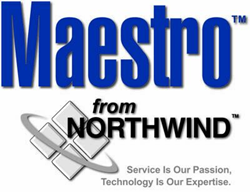 NORTHWIND's SaaS Maestro Web system relieves property managers from daily IT work and PCI data security issues. The system provides a stable, low cost platform with greater peace of mind.
Markham, ON (PRWEB) July 16, 2014
NORTHWIND-Maestro PMS announced that the independent, full-service Point Pleasant Lodge implemented the Maestro Web cloud property management system. Maestro Web is a new fully-functional, browser-based Maestro PMS that includes all 21 NORTHWIND modules. NORTHWIND hosts Point Pleasant Lodge's Maestro Web system from NORTHWIND's secure PCI-compliant Toronto data center. NORTHWIND provides the Maestro Enterprise Property Management hotel software and reservation software solutions for the industry's leading independent hotel, resorts, and multi-property groups. Click here to learn more about Maestro's solutions for profitability and productivity.
Independent Property Saves Money on Hardware
"Maestro Web is perfect for independent properties like Point Pleasant Lodge. It saves us a great deal of money on our property's hardware, support, and peripheral equipment," said Michael Manuel, General Manager of Point Pleasant Lodge. "Just as important, our data and PMS are secure behind NORTHWIND's firewall in a PCI certified environment." Manuel noted that Maestro Web delivers the same full functionality of Maestro PMS with ease of access via Google Chrome browser. "We eliminated multiple property servers; now our managers use tablets and handhelds to access Maestro Web." Point Pleasant Lodge is a full-service independent property that serves medical related travelers.
Maestro Web Provides Familiar Functionality from Any Browser
Warren Dehan, NORTHWIND-Maestro PMS President said, "Maestro Web delivers our complete 21-module Maestro system based on years of NORTHWIND Maestro PMS development experience. This is the same stable Maestro our clients are familiar with, not a different system. It has the same functionality, but is available now as a browser-based solution for the cloud or on premise, whichever our client prefers." Maestro Web is totally flexible to meet all preferences. Operators can access the system with any browser, including Safari, Chrome, Internet Explorer, and Mozilla. Users can operate Maestro Web concurrently with the client/server version of Maestro PMS providing flexibility in deployment and operations. Maestro Web requires no new user training.
Point Pleasant Lodge GM Cites 'Highly Secure' Data Handling and 'Excellent Speed'
"Data security is important to our guests and operation, so is transaction speed at the front desk," Manuel said. "Maestro Web uses tokenized credit card processing and highly secure data handling. And the system is fast. We get excellent speed with a standard DSL connection with secured layers and private internal networks. The Chrome OS is a good fit for us. We also interface our Aloha POS with a TCP IP interface to Maestro Web in the cloud. Interface setup was a 2-click process. Our team also values Maestro's online eLearning to improve their system knowledge or answer questions."
Maestro Web Relieves Property Staff of Daily IT and Data Security Duties
Manual said that NORTHWIND's DiamondPlus Service is important because smaller properties often do not have a dedicated IT person. "It is difficult for independent operators to maintain the redundancy and security needed to do business today. NORTHWIND takes this responsibility by hosting Maestro Web for us. It is a cost effective solution that enables our staff to be more productive and our operation more efficient."
"Maestro Web is the perfect solution for independent operators who want a browser-based solution," Dehan said. "NORTHWIND's SaaS Maestro Web system relieves property managers from daily IT work and PCI data security issues. The system provides a stable, low cost platform with greater peace of mind."
For a demo of the Maestro Web Property Management Suite featuring the ResWave Booking Engine, please contact NORTHWIND at 1.888.667.8488 or email info(at)maestropms(dot)com.
Exchange ideas and connect with NORTHWIND on Twitter, Facebook, and LinkedIn.
Maestro Property Management Solution
Enhance guest service, improve efficiency, and maximize online and offline revenue with Maestro PMS, the industry's most robust and flexible resort software and boutique hotel software solution empowering leading full-service hotels, luxury resorts, multi-property groups, conference centers, condominiums, and timeshare properties. Solutions include Front Office (PMS), Accounts Receivable, Analytics and Business Intelligence, Sales and Catering, Multi-Property Management, Condo & Timeshare Owner Management with Web Functionality, Spa and Activities, Web Booking Engine, Real-Time Yield Management, Dynamic Packaging Golf, CRM, Guest Experience Measurement, CRO, GDS Two-Way XML Connectivity or Integration, Membership, Work Orders, Fine Dining and Retail POS, Online Table Reservations with Web Booking, and Concierge. The Maestro PMS is database independent (ODBC Compliant) and may be deployed via Windows, UNIX, Linux, Terminal Services, hosted, and Web platforms.
About NORTHWIND – Maestro PMS
NORTHWIND is recognized in the hospitality industry for its standard-setting Diamond Plus Service and robust integrated Maestro resort hotel software technology. With more than 30 years' experience dedicated to developing technology solutions for the hospitality industry, NORTHWIND is a partner who understands you need a scalable, flexible PMS that works the way you do. Maestro applications are engineered for operators who need to manage their enterprise in a real-time environment for the utmost operational efficiency, productivity, control, and profitability.