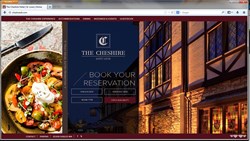 We studied how people engage with us to book a room. We found four booking-decision steps: inspiration, search, validation, and booking. Maestro helps us communicate with people in all these stages to drive bookings.
(PRWEB) January 28, 2014
Lodging Hospitality Management (LHM) thought that its two independent properties had solid, interesting websites. Until they looked at the numbers.
LHM operates 17 hotels in the St. Louis area. It knows how to run both chain properties and independents. Along with its Hilton, Sheraton, IHG, and Choice flags, it operates two luxury indies, The Cheshire and The Seven Gables Inn.
"We have these unique boutique properties in St. Louis, so we filled their websites with colorful stories about the hotels. We thought guests would be interested and engage with us; but that was not the case," said Todd Hotaling, LHM's Corporate Director of Revenue Management. "We evaluated the metrics last year and found we were not getting the eyeballs." LHM just powered up two new sites that are completely different. "We want to engage guests so we went micro and visual. The new sites leverage NORTHWIND's Maestro ResWave web booking system to drive guest engagement and reservations, rather than just display interesting content." NORTHWIND provides Maestro™ Enterprise Property Management hotel software solutions for the industry's leading independent hotels, resorts, and multi-property groups. Click here to learn more about Maestro's solutions for profitability and productivity.
"Our objective was to have visitors book reservations, and I wanted a two-click process," Hotaling said. "We use the ResWave booking engine to accomplish this." LHM worked with NORTHWIND to build ResWave into the new website design to accomplish its booking objective for reservations, packages, and group contracts. "Visitors want to see our rooms and amenities. ResWave engages them with booking buttons directly on attractive room photos. If you see a room you like, just click on its image to book." Hotaling noted that visitors need confidence they are booking with the property, not a 3rd party company. LHM also benefits from not having to pay OTA fees thanks to direct web booking.
The keys to online success: Inspiration, search, validation, and booking
"We studied how people engage with us to book a room. We found four booking-decision steps: inspiration, search, validation, and booking. Maestro helps us communicate with people in all these stages to drive bookings," Hotaling explained.
Mobile capability and social media booking engagement also play a large part in LHM's new online strategy. "Guests do business via mobile today. ResWave is mobile optimized, and this drives bookings by making it easy to search and reserve from a smartphone. We also have direct web booking capability on our social media sites," said Hotaling. "Facebook and Twitter are the two most important social media channels for our hotels. Maestro helped us build integrated booking links into our social media pages. We regularly engage in conversations about our properties, and visitors can use ResWave's 'book-it' button without leaving the site."
Online packages are also a good revenue source for LHM. "There are two stages to buying packages. Guests make the purchase decision first, and then add amenities. ResWave supports this process very effectively," Hotaling said. "ResWave provides an easy package booking process and enables guests to purchase package add-ons anytime after they book. We visually display revenue-generating amenities, like chocolate strawberries, and guests add them. To increase RevPAR, we engage guests with pictures and room upgrade verbiage in ResWave. Offering amenity choices gives guests the power to create a richer stay."
LHM saw that many guests book packages far in the future and confirm their booking as the arrival date gets closer. "We use our Maestro property management system to engage guests with automatic email reminders and amenity offers that link to our booking engine," said Hotaling. "Our properties have four excellent outlets and ResWave makes it easy to offer discounted dining reservations as package amenities. Engaging guests with personalized communications is very effective. We position our amenities with their benefits. For example, a complimentary breakfast saves time and provides convenience; it is not just free food. Benefit messaging works and the package add-ons drive ancillary revenue at our properties through ResWave."
For a demo of the Maestro Property Management Suite featuring the ResWave Booking Engine, please contact NORTHWIND at 1.888.667.8488 or email info(at)maestropms(dot)com.
Exchange ideas and connect with NORTHWIND on Twitter, Facebook, and LinkedIn.
Maestro Property Management Solution
Enhance guest service, improve efficiency, and maximize online and offline revenue with Maestro PMS, the industry's most robust and flexible resort software and boutique hotel software solution empowering leading full-service hotels, luxury resorts, multi-property groups, conference centers, condominiums, and timeshare properties. Solutions include Front Office (PMS), Accounts Receivable, Analytics and Business Intelligence, Sales and Catering, Multi-Property Management, Condo & Timeshare Owner Management with Web Functionality, Spa and Activities, Web Booking Engine, Real-Time Yield Management, Dynamic Packaging Golf, CRM, Guest Experience Measurement, CRO, GDS Two-Way XML Connectivity or Integration, Membership, Work Orders, Fine Dining and Retail POS, Online Table Reservations with Web Booking, Concierge, and Guest Experience Measurement. The Maestro PMS is database independent (ODBC Compliant) and may be deployed via Windows, UNIX, Linux, Terminal Services, hosted, and Web platforms.
About NORTHWIND – Maestro PMS
NORTHWIND is recognized in the hospitality industry for its standard-setting Diamond Plus Service and robust integrated Maestro resort hotel software technology. With over 30 years' experience dedicated to developing technology solutions for the hospitality industry, NORTHWIND is a partner who understands you need a scalable, flexible PMS that works the way you do. Maestro applications are engineered for operators who need to manage their enterprise in a real-time environment for the utmost operational efficiency, productivity, control, and profitability.