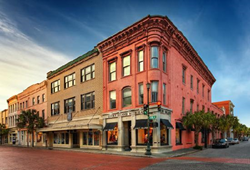 We selected Maestro to automate our operation because NORTHWIND specializes in independent hotels and resorts and has an excellent understanding of boutique operations.
Markham, ON (PRWEB) May 07, 2014
Charleston's newest luxury boutique hotel, Restoration on King, installed the Maestro™ Property Management System. NORTHWIND provides the Maestro Enterprise Property Management hotel software and reservation software solutions for the industry's leading independent hotel, resorts, and multi-property groups. TripAdvisor voted Restoration on King the #4 Best Small Hotel in the U.S in 2014. Click here to learn more about Maestro's solutions for profitability and productivity.
Property will use Maestro to track guest preferences, optimize room pricing
"We selected Maestro to automate our operation because NORTHWIND specializes in independent hotels and resorts and has an excellent understanding of boutique operations. They cared about our property and were willing to adapt Maestro to our unique business requirements," said Howard D. Letts, General Manager of the Restoration on King. "We are a Small Luxury Boutique Hotel and are using Maestro to develop a database of our guests' preferences and other information that enables us to provide highly personalized service. Maestro's Yield Management module also helps us optimize our room pricing more systematically."
Charleston's elegant AAA Four Diamond Restoration on King provides the superlative service and appointments of an upscale hotel, with historic exposed brick, hardwood floors, and contemporary interior design. The hotel is ideally located in the heart of Historic Charleston along King Street's fashion district. It is comprised of three buildings, the oldest of which dates to 1940. With 16 tastefully furnished suites, the property provides opulent amenities and decadent décor that create a luxurious standard of living. Restoration on King is ideal for brief getaways or extended visits to Charleston.
Single database platform drives direct bookings, personalizes service to engage guests
Maestro provides 21 integrated modules on a single image database that properties may implement on-premise or have hosted. Maestro gives operators a 360 degree view of guests and operations at every touch point. NORTHWIND-Maestro delivers business solutions and Management Services that help hoteliers maximize productivity, profitability, drive direct bookings, personalize service, and engage guests.
For a demo of the Maestro Property Management Suite featuring the ResWave Booking Engine, please contact NORTHWIND at 1.888.667.8488 or email info(at)maestropms(dot)com.
Exchange ideas and connect with NORTHWIND on Twitter, Facebook, and LinkedIn.
Maestro Property Management Solution
Enhance guest service, improve efficiency, and maximize online and offline revenue with Maestro PMS, the industry's most robust and flexible resort software and boutique hotel software solution empowering leading full-service hotels, luxury resorts, multi-property groups, conference centers, condominiums, and timeshare properties. Solutions include Front Office (PMS), Accounts Receivable, Analytics and Business Intelligence, Sales and Catering, Multi-Property Management, Condo & Timeshare Owner Management with Web Functionality, Spa and Activities, Web Booking Engine, Real-Time Yield Management, Dynamic Packaging Golf, CRM, Guest Experience Measurement, CRO, GDS Two-Way XML Connectivity or Integration, Membership, Work Orders, Fine Dining and Retail POS, Online Table Reservations with Web Booking, Concierge, and Guest Experience Measurement. The Maestro PMS is database independent (ODBC Compliant) and may be deployed via Windows, UNIX, Linux, Terminal Services, hosted, and Web platforms.
About NORTHWIND – Maestro PMS
NORTHWIND is recognized in the hospitality industry for its standard-setting Diamond Plus Service and robust integrated Maestro resort hotel software technology. With more than 30 years' experience dedicated to developing technology solutions for the hospitality industry, NORTHWIND is a partner who understands you need a scalable, flexible PMS that works the way you do. Maestro applications are engineered for operators who need to manage their enterprise in a real-time environment for the utmost operational efficiency, productivity, control, and profitability.
About Restoration on King
The Restoration on King is the finest of hotels in Charleston, SC, and offers guests a central location for enjoying the charm and treasures of this historic city. Surrounded by upscale shops, restaurants, and the Antique District, this beautifully restored boutique property combines the exemplary service and comfort of a hotel with the luxurious amenities of a fully furnished apartment. Sixteen suites featuring exposed brick walls and original wood flooring blend classic character with contemporary style. Spacious living areas adorn each suite while modern amenities ensure that every need is met. Experience executive living in a refined setting and discover why The Restoration on King sets a new standard for style. http://www.restorationonking.com/