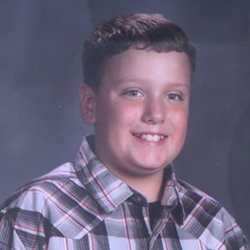 We're committed to doing everything we can to enable Joshua to focus on getting his son well without having to worry about how to pay the bills
Norwalk, OH (PRWEB) October 11, 2016
Dilger-Maxwell Agency announces the latest charity campaign in the insurance agency's recognized community enrichment program serving families in Norwalk, Vermillion and other areas of northern Ohio. A tragic accidental shooting has left a 13-year-old local boy named Mattheau fighting to regain his health. Compassionate readers who wish to support Mattheau's family at a time of great need may now contribute at https://www.crowdrise.com/supporting-a-single-father-and-his-courageous-son1/fundraiser/toniamaxwell.
This past June, an accidental shot from a 12-gauge shotgun demonstrated to the community what the face of courage looks like – it looks like Mattheau. Struck in the back, Mattheau spent 2-1/2 weeks in the ICU due to serious injuries sustained to his lung, liver, pancreas, stomach, kidney and back, which resulted in 8 major surgeries. He also broke his foot in four places when he fell. Mattheau's father, Joshua, is a single parent whose full-time job has become taking care of his son and helping him to regain his health. There are additional surgeries in Mattheau's future and a long, difficult – and expensive – road ahead for this family.
"The bravery with which Mattheau has handled this tragedy is truly humbling," said Tonia Maxwell, owner of Dilger-Maxwell Agency. "The situation is a perfect example of why we created our Community Program – to rally the community behind those going through unusually difficult times. We're committed to doing everything we can to enable Joshua to focus on getting his son well without having to worry about how to pay the bills."
The caring team at Dilger-Maxwell Agency hopes to bring awareness to the ongoing challenges faced by this family and their need for funds to continue Mattheau's recovery. They have even pledged to donate $10 to the cause for each and every referral they receive for an insurance quote, making it simple for everyone to help. Readers who would like the agency to make a donation on their behalf may recommend friends and family for a no-obligation insurance quotation here.
The agency will promote the initiative over the course of the next two months through social media and a robust email awareness campaign, as well as through their vibrant community magazine. Our Hometown is delivered to thousands of households in Norwalk, Vermillion and surrounding areas every month, and has a full page featuring Mattheau's plight. Current and past issues of the magazine may be enjoyed at http://www.dilgermaxwellagency.com/Our-Hometown-Magazine_46.
Dilger-Maxwell's ongoing community involvement program collaborates with local nonprofit organizations and community members to highlight and support people and groups in need of a helping hand. All are invited to submit ideas for future campaigns at http://www.dilgermaxwellagency.com/Add-Community-Cause_45. Readers may visit http://www.dilgermaxwellagency.com/community-cause to view past community causes and are encouraged to bookmark the site for future reference.
About Dilger-Maxwell Agency
Serving northern Ohio's families from offices in Norwalk and Vermillion, Dilger-Maxwell Agency is an award-winning, locally owned and operated full-service insurance agency whose mission is simple: to provide the finest insurance and financial services in the industry, while delivering consistently superior service. Tonia Maxwell and her team of caring professionals believe in protecting all the things which are most important to clients (their families, homes, cars and more), and in helping to prepare long-term strategies to enable financial success and security. To learn more about the agency, readers may visit http://www.dilgermaxwellagency.com/. To speak with one of their dedicated experts, please call 419-668-8016 (Norwalk) or 440-822-3512 (Vermillion).