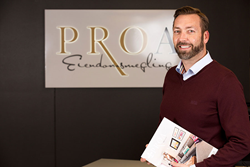 Throughout the sale we felt safe and very well cared for, and can certainly recommend Proa to others who are selling residential property
Bergen, Norway (PRWEB) December 05, 2014
The founders of Proaktiv Eiendomsmegling, a quality real estate agency based in Norway, are proud to announce that they are now the 10th largest realtor in the country. What makes this news especially impressive is that Proaktiv Eiendomsmegling has been open for just about a year.
In an article on Hegnar.no that discusses Proaktiv Eiendomsmegling's rapid growth, writer Magnus Berg Johansen notes that because every real estate agent at the company focuses on quality work, they have enjoyed the biggest launch within Norway's realtor niche since 2004.
Clients who have worked with the experienced and friendly real estate agents at Proaktiv Eiendomsmegling were probably not surprised to learn that the company has seen such quick growth in around 12 months. The founders of the company as well as their team of agents are all committed to offering outstanding service.
"We know that good mediation provides more effective sales at better price. We know that it gives us satisfied customers who come back to us," a spokesperson for Proaktiv Eiendomsmegling noted, adding that satisfied customers are their main goal.
"Therefore we are keen to provide that little extra every time we get the opportunity."
In addition, instead of saying that they sell property, the agents at Proaktiv Eiendomsmegling prefer to say that they sell their expertise, and that they are hired to do things in the best way for their clients. This in turn will ensure the most optimum sales at the highest possible price, which are all completed as quickly as possible.
Anybody who would like to learn more about Proaktiv Eiendomsmegling is welcome to visit their user friendly website; there, they can read about the real estate company as well as browse through the current property listings. The site also features customer testimonials from satisfied people who have already worked with the real estate agency.
For example, Kjetil P. wrote that their broker from Proaktiv Eiendomsmegling kept them well-informed throughout the process of selling their home.
"Throughout the sale we felt safe and very well cared for, and can certainly recommend Proa to others who are selling residential property."
About Proaktiv Eiendomsmegling:
Proa and Proaktiv Eiendomsmegling is a fast growing real estate agency chain with its main office located in Bergen, Norway. They have been in business for one year, and they have their main focus set on quality. With them, clients can be sure that they are getting the right advice at the right time and in the right way. For more information, please visit http://proa.no/