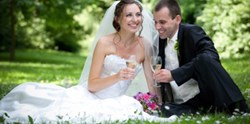 "This is a great way for a couple to get sources for all their wedding planning in one place -- a one-stop shopping opportunity." -- Amy Herman, Norway Gardens
Monticello, IN (PRWEB) January 10, 2014
Norway Gardens has been instrumental in forming a group of nineteen wedding-related businesses in north-central Indiana. Called the Monticello-Lake Shafer Wedding Planners, this group focuses on the special service and attention to detail that small businesses can provide a couple planning a wedding. The Wedding Planners encourage brides-to-be and their families to seek their help in planning beautiful and hassle-free events. With this goal in mind the Wedding Planners have scheduled their first Monticello-Lake Shafer Wedding Fair to be held on Saturday, February 1, 2014, at the Tippecanoe Country Club, 3267 N W Shafer Drive, Monticello, Indiana, from 10 a.m. to 5 p.m. During this event, style shows will be presented at 11:30 a.m. and again at 2:30 p.m., featuring new trends in dresses, tuxes, floral bouquets, accessories, cakes, jewelry, etc. Door prizes will be awarded throughout the event. The $1 per person admission fee will be pooled to become a cash doorprize for one lucky attendee.
Included in the vendor offerings at this event are merchants specializing in wedding attire, floral design, cakes, rings and jewelry, hair styling and manicures, invitations and favors, catering, photography, videography, D.J. services, and receptions. To prepare the wedding party for the event there will be vendors specializing in body toning, facials and massages -- even beautiful smiles. One vendor offers his popular resort for those planning a destination wedding on the lake. A vendor will be there to help with honeymoon planning and a realtor to help a couple with their first home. Monticello-Lake Shafer area with its beautiful lakes is a popular destination wedding venue for prospective brides and grooms.
Norway Gardens has been a leader in gardening and landscaping in north-central Indiana since 1970. In 2013 the company expanded their offerings by opening a full-service floral design department. Emphasizing unique and beautiful floral designs, Norway Gardens Floral Department works with clients to create one-of-a-kind bouquets and floral arrangements that reflect the clients' individual taste and special interests. For more information, visit our website http://www.norwaygardens.com.