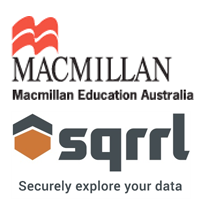 Sqrrl brings unique Data-Centric Security capabilities to help make these Big Data apps with strong security requirements possible.
Cambridge, MA (PRWEB) April 02, 2014
Sqrrl, the company that develops the most secure NoSQL database software for Big Data applications, has collaborated with Macmillan Education Australia, a leading educational publisher, to help them power a next generation education portal. Sqrrl's NoSQL database, Sqrrl Enterprise, enables Macmillan to securely store massive amounts of student and teacher data and ensures data is only accessed in authorized ways.
"We are very excited to be working with Macmillan in Australia," says Sqrrl CEO Mark Terenzoni. "Big Data apps for education have strong security requirements, and Sqrrl brings unique Data-Centric Security capabilities to help make these apps possible."
Students, parents, and teachers will use the web-based portal, which is called Macmillan Connect, to access online educational resources. Students can take quizzes and exams; teachers will be able to track progress and record grades and notes; and functionality for parents to be able to monitor the progress of their children through real-time dashboards and visualizations will also be possible.
"For Macmillan Connect, we require a NoSQL database that can support interactive queries, process very large amounts of multi-structured data, and provide fine-grained access controls and encryption," says Sue McNab the platform technical lead at Macmillan Education Australia. "We looked at a number of options, and only Sqrrl could provide these combined capabilities."
Fine-grained access controls are a critical requirement for this application, as student data will be selectively shared with the students, parents, and teachers based on both user-driven policies and government regulations. Sqrrl Enterprise's unique ability to provide data-centric security controls for Big Data set it apart from other NoSQL solutions.
About Sqrrl
Headquartered in Cambridge, MA, Sqrrl's founders have been working with some of the largest, most complex and most sensitive data sets in the world for the last decade. Today, Sqrrl Enterprise is the world's most secure, scalable, and flexible NoSQL database for real-time Big Data applications (aka "Big Apps"). It is the only NoSQL solution that possesses fine-grained security controls, scales elastically to tens of petabytes of data, and supports a diverse set of search and query capabilities, including graph, aggregations, and full-text search. Sqrrl's understanding of security and Big Data technologies enables organizations to securely unlock the potential of Big Data. Learn more at http://www.sqrrl.com.
About Macmillan Education Australia
Macmillan Publishers Australia has been operating in Australia for over 100 years. Macmillan's school publishing business Macmillan Education Australia (MEA) is one of the leading educational publishers in Australia. It was formally established over 40 years ago and has a vigorous publishing program catering to the needs of Primary and Secondary Schools locally and globally.
MEA is part of the Macmillan Group, a private publishing group owned by Verlagsgruppe Georg von Holtzbrinck. It is one of the largest and best known international publishing groups in the world, with over 150 years of publishing experience and over 7000 staff operating in more than 80 countries. Powerful brands owned by Macmillan include Macmillan Science and Education, Nature, Palgrave Macmillan, Pan and Picador.
Macmillan's publishing activities in Australia also include Pan Macmillan Australia, Macquarie Dictionary & Online, Palgrave Macmillan, Macmillan Professional Development, Flexibooks.
Learn more at http://www.macmillan.com.au/.