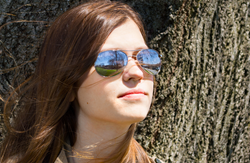 ...our goal has always been to design that perfect pair of designer sunglasses to go with [NOTW] gear. -Amy Schneider, Eyes of Faith Co-founder & VP of Product Development
Sharon, Pennsylvania (PRWEB) June 19, 2014
With a name inspired by biblical scripture, "Righteous" is the first ophthalmic-quality sunglass created by Eyes of Faith Optical for officially-licensed brand Not of This World®. Complemented by "Courage," the latest addition to their selection of ophthalmic eyewear, Eyes of Faith® began shipping both new styles this week to independent eyecare professionals throughout the US, accompanied by NOTW® branded cleaning cloths and eco-friendly cases that ship and store flat.
"We are thrilled to offer Not of This World fans the first pair of NOTW-branded ophthalmic-quality sunglasses," said Amy Schneider, Eyes of Faith Co-founder and Vice President of Product Development. "NOTW offers a wide array of apparel and accessories via their e-commerce website, and our goal has always been to design that perfect pair of designer sunglasses to go with their gear."
Schneider describes "Righteous" as the perfect, unisex aviator shape enhanced with a special spiritual accent: the right lens of each frame is laser-etched with the world-renowned NOTW® logo. Color variations include classic, polished gold (Golden Mirror), shiny, silver-tone metal (Gunmetal Mirror), and sleek, matte black (Onyx Mirror). All colors are finished with contemporary silver or warm tan mirrored lenses that offer UV400 protection, and the frame can be converted to a prescription sunglass by an eye care professional. As a faithful reminder, the scripture that inspired the style name, "…the Lord upholds the righteous (Psalm 37:17)," is printed inside the temple.
Newest NOTW ophthalmic style "Courage" hits the market this week along with "Righteous." This unisex acetate frame combines mature colors with youthful style, making it a perfect fit for teens and petite adults. Many demographics will love its softly-contoured rectangular front and great-fitting bridge, which is flanked by trendy silver-tone diamond rivets and a distinctive Not of This World temple logo. Color option Brown Sky blends a neutral, rich brown with a touch of trendy blue and crystal; best-selling color Midnight is a standout, inky blue; Obsidian is the perfect bold, yet versatile, black. The inspirational passage, "...I urge you to keep up your courage..." (Acts 27:22) is printed inside Courage's temple.
"We design every Not of This World frame to stay true to the quality and inspirational character of the brand with thoughtful designs, on-trend styles, and encouraging scripture," said Jim Schneider, Eyes of Faith Co-founder and President. "So, we are proud to introduce NOTW fans to even more accessory choices that align with their values."
About Eyes of Faith:
Eyes of Faith was founded in 2008 by husband and wife team Jim and Amy Schneider to provide a faith-conscious eyewear option to the optical industry and contribute to the global mission of serving people in need. The Eyes of Faith family of brands includes the Eyes of Faith® brand, as well as licensed brands VeggieTales®, Not of This World®, and Women of Faith®, all of which are distributed to independent eye care professionals in the continental United States, Puerto Rico, Canada, and Dominica. Through Eyes of Faith's Wear & Share® promise, eye care or eyewear is donated to optical missions for every purchase. Consumers can also Wear & Share® with signature Eyewear My Faith™ t-shirts, John 3:16 Eye Chart t-shirts, and Women of Faith® licensed reading glasses through the "Eyes of Faith Storehouse" at eofshop.com, where reciprocal t-shirts and readers are donated to missions for each purchase. Eyes of Faith's vision is to encourage people to "wear" their products, and "share" their faith through donations that are delivered to people in need, locally and abroad, on behalf of each purchase.
To view all Eyes of Faith frames online, visit http://www.eofoptical.com/collection.
For more information about Eyes of Faith Optical or Wear & Share visit eofoptical.com.