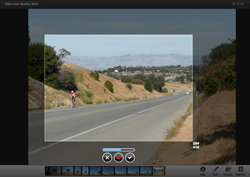 "We have seen short videos and animated GIFs are two of the fastest growing new media formats. Now Gyazo is applying our hallmark convenience and speed to make it easier than ever to share moving images." - Isshu Rakusai, CEO Nota Inc.
San Jose, CA (PRWEB) October 02, 2013
Using Gyazo sharing a GIF is now as easy as sharing an image. This opens up new opportunities for video content to be created and shared instantly from anything appearing on the countless screens that populate the modern world.
To capture new screenshots and animated GIFs is exceedingly fast and simple. The application works as follows: A user drags the mouse to select the desired area on screen, then Gyazo automatically uploads the image, and the link to that page is copied to the clipboard for pasting.
Millions of users love sharing these instant images all over the web. Some of the most popular places are Twitter, Facebook, Tumblr, Reddit, and privately in instant messaging clients like Skype or Google Chat.
Whenever a user wants to share something on screen, instantly sharing it online is now just a click away. Speed is a core component of the Gyazo design philosophy and it seems to be striking a nerve with lots of savvy internet users, gamers, designers, and software developers.
As GIFs become more and more popular online, the Gyazo Development team has responded by adding animated GIF capture and other exciting new features in version 2.0.
In this version Gyazo is announcing three major new features that extend and enhance the experience:
Sharing an animated GIF has never been easier
The new Gyazo lets users share not only a screenshot but also a GIF or video capture of their screen by simply clicking and dragging, releasing the mouse, and pasting the link. This is an order of magnitude more efficient than previous methods of creating, storing, and sharing GIFs. Ten seconds on average is all it takes to create and share a new GIF.
This creates a key new opportunity for developers and designers to share an animation of how to navigate the user interfaces in their applications and websites. When demonstrating any process on a computer, users can now show their actions including the mouse cursor and keystrokes in an animated GIF.
Because anyone can create GIFs very easily with this new feature, the creation of video content that has rarely been shared before is now possible. Examples include capturing a sequence from applications, movies, video games, live streams, photo slideshows, etc. With Gyazo, people can make video as instantly and easily as they make images, expanding options for new content and expression on the web.
It's as simple as pasting the link into chat, Facebook, Twitter, Tumblr, or anywhere else. Users can share screenshots and screen GIFs with a small team or a big social network, across all connected devices.
Arrows are Now available for Premium Users (Gyazo Ninja)
The new arrows features is a great time saver when users want to highlight just certain parts of a shared image.
Arrows couldn't be easier to help viewers get to the point. To make new arrows its as easy as click and drag. When the mouse is released the arrow will be added right where it was pointed on the image.
These powerful features are designed to further enhance Gyazo's benefits to productivity and workflow while maintaining a core focus on simplicity and speed.
Ninja: Premium
Many Gyazo users like to use the service for fun or as part of their hobby, but there is also a growing group that deem Gyazo essential for their business and daily productivity.
For those who want to remove as much friction as possible from their workflow, Gyazo Ninja extends the core service. Premium Ninja users gain access to unlimited image storage and uploading, marker arrows, advertisement free image sharing, and will gain additional privileges in future updates to the service including private and team sharing.
Not just savvy computer users, but all types demand more speed from their most-used applications and communications. With that in mind, the Gyazo team has decided to do their small part to enhance sharing and working online. They plan to continue to improve and adapt their products to enhance the efficiency of online collaboration, to spread visual messages easily, and to save the world some time every day with their communication needs.
Gyazo has succeeded in growing outside of Japan where it was first released and into a global expansion. The service is now available in 35 countries around the world with approximately 50% of users from the United States.
The company behind Gyazo, Nota, is a small team of hardworking developers and businesspeople who have come together across international borders to create products that help simplify and amplify online communication.
Nota Inc.
San Jose, CA and Kyoto, Japan
For press inquiries please use
ben(at)notaland(dot)com
http://gyazo.com