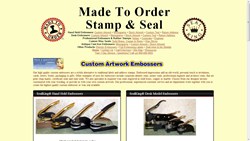 You can make an impression directly onto your paper or use their gold or silver foil adhesive seals to emboss your image and make your impression stand apart from others.
Albuquerque, NM (PRWEB) August 03, 2013
Custom Embossers has announced One Day Fast Service for Corporate Seals and Notary Seals. The company is acclaimed for professional grade business seals and now with the One Day Service is reassuring that clients will get their products as quickly as possible.
A company executive said, "Custom Embossers offers several Hand Held Embossing models as well as a variety of Desk Models. Precision engraved custom brass dies are also available for all models. Clients can make an impression directly onto the paper or use their gold or silver foil adhesive seals to emboss their image and make impression stand apart from others".
Ordering online is a quick with Custom Embossers' easy to use fill in the blank order form. They have a current list of all 50 states requirements for corporate seals, notary seals, engineer seals, etc. The seal will have the current layout and size requirements as specified by the client. For any questions regarding the products, one can call their friendly staff at 800-606-9655.
All Rubber stamps produced by the company are laser cut and made of real red rubber. Handle mount stamps are the company's most versatile rubber stamps. They are hand trimmed to avoid ink transfer and also allow the user to use specialty inks to stamp blueprints, etc. Self-Inking stamps are available in two styles; the standard Self-inking and the Premium self-inking. The Premium self-inking stamps have the benefit of stamping with laser print quality. All stamps have One Day Service.
The company also offers Custom Wax Seals and Wax Sticks, Custom Embossers and Seals. It specializes in Custom Artwork and Logos. Plenty of designer monograms and stock artwork options are also available.
Prices start at $25.98 with free shipping, easy online ordering and fast friendly service. Check them out today to know more about corporate seals and notary seals.
About the Company
Custom Embossers specializes in Corporate Seals, Notary Seals, Custom Embossers, Artwork Embossers, Custom Wax Seals, Rubber Stamps, and more. They have been making high quality marking products for over 65 years using patented and proprietary technology to produce high quality products. From basic designs to extreme detail, the company can custom-engrave the artwork, logo, monogram, standard text into a beautiful wax seal, embosser, or rubber stamp. Find more at company's website about custom artwork embossers and architect seals. Click for more info regarding wax seal and other solutions.
Contact Information
Custom Embossers
6717 Lomas Blvd NE
Albuquerque, NM 87110
Phone 1-800-606-9655
Website: http://www.customemebossers.com