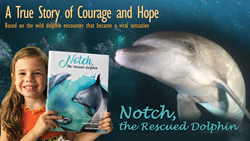 "It's very important that we promote positive messages to children about our responsibility to protect the Earth and wildlife. If we can use Notch's story to start those conversations, we will save much more than one dolphin"- Martina Wing, Author
Kona, HI (PRWEB) June 22, 2017
Her incredible footage of an injured wild bottlenose dolphin approaching a Hawaiian dive team for help, then patiently waiting to be untangled from fishing line, has been shared by major news outlets worldwide and amassed over 30 million YouTube views. Now, Martina Wing, the underwater camerawoman responsible for filming the rescue, has designed a children's book about the event. She's hoping Notch's story will inspire kids (and their parents) to become environmental advocates.
"My book, 'Notch, the Rescued Dolphin', has important messages for kids about animal intelligence, the value of compassion, and our collective responsibility to protect the environment we all share. This wild dolphin had a life threatening emergency caused entirely by careless human beings, yet he still came to us and trusted us to save him. Kids are fascinated by the courage and communication between this beautiful animal and the divers, especially because it's a true story."
She continues, "As a conservation activist, I knew Notch's rescue was going to inspire people. The story touches on some big concepts. I believe that it's very important that we promote positive messages to children about our responsibility to protect the Earth and wildlife. Never before in human history have we faced an environmental crisis on this scale, and it's going to be up to future generations to find solutions. If we can use Notch's story to start those conversations, we will save much more than one dolphin."
By some estimates, over a hundred million marine mammals die annually due to plastic pollution- like the fishing line Notch was tangled in. Add in fish, turtles, and birds, and the annual death toll is simply staggering. Some researchers believe that unless we change our approach to conservation now, in three decades 50% of Earth's existing species will be extinct*. Educating children & parents about these and other environmental issues is a critical step in changing the mindsets and behaviors that contribute to the crisis.
'Notch, the Rescued Dolphin' is available for preorder via Kickstarter at http://www.notchdolphinbook.com. For a pledge of only $20 backers will receive a fully illustrated hardcover copy of the book.
The viral video of the original rescue can be viewed at: http://www.youtube.com/watch?v=CCXx2bNk6UA

Racing Extinction. Dir. Louie Psihoyos. Discovery, 2015. Film.
Martina Wing, Author
PMB 410 Suite J
74-5576 Pawai Place
Kailua-Kona HI 96740
808-987-8660
http://www.MartinaWing.com - http://www.MantaAdvocatesHawaii.com
aloha(at)mantarayshawaii.com