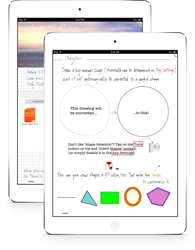 This app helps make iPad an extremely valuable daily productivity tool. In fact, I think iPad ought to come with it already installed. Appstore Review, Excellent App - by Gigantor The Space Age Robot
Irvine, CA (PRWEB) July 25, 2014
Prime Circa, Inc., makers of the Notes Plus iPad App (http://notesplusapp.com/), boasts four years of remarkable success with their iPad note taking app. The iPad itself is only four years old and the Notes Plus app has been admired by many since the very beginning.
The company believes that people have an innate desire to improve the world, which inspires people to leadership in every aspect of life. "Our mission is to enable you to be successful. We equip leaders and leaders deserve the best." - Viet Tran, CEO of Prime Circa. The company's passion is evident in not only the high quality of their applications, but also in their incredible support response time, which they target to be less than four hours and is unheard of in the industry.
Maintaining continuous development and innovation with 29 version upgrades, three complete overhauls, and eight million new and upgrade downloads, Prime Circa is proud that Notes Plus is one of the most feature-rich, highest rated and best quality note-taking apps in the Apple's Appstore.
NEW RELEASE VERSION 4.4 FEATURES

Palm rejection: After launching its patent-pending technology on its INKredible app, which achieved more than one million users within six months, Prime Circa has integrated this technology into its keystone app, Notes Plus version 4.4.
Adonit Jot Script/Touch ready: Notes Plus became the most-voted-app for Jot integration on the Adonit website. Now, in Notes Plus version 4.4, Jot Script/Touch owners can use their fine-tip styli with Notes Plus to get the perfect handwriting experience.
SALE
In celebration, Prime Circa is offering 60% off Notes Plus original price - something that has never been done before. The sale is on for only four days between July 25 and July 28.
USER REVIEWS
This app helps make iPad an extremely valuable daily productivity tool. In fact, I think iPad ought to come with it already installed. FIVE STARS Excellent App - by Gigantor The Space Age Robot, Apr 25, 2014
After trying several different note taking apps, among the sea of competitors, I've found my go to, must have app. Its awesome feature set, excellent customer support and great handwriting recognition (IAP), puts this app in the most coveted spot on my iPad, the center of my dock. FIVE STARS - the only Note taking app you need. - by Skrimfid, Jun 4, 2014
ABOUT PRIME CIRCA, INC. & NOTES PLUS
Prime Circa, Inc. is a small team of app developers from around the world and led by Viet Tran, Founder/CEO/CTO, from Irvine, California. Their note taking app, the highly rated Notes Plus, was introduced in 2010 and today continues its remarkable growth. The company issued a secondary iPad handwriting app, INKredible, in January 2014 that has achieved over one million users within six months. Prime Circa, Inc. has several patents filed for vector-based handwriting as well as for algorithms in palm rejection, which combined with high growth user base, make the Prime Circa a target for major tech companies to partner with and license the technology.