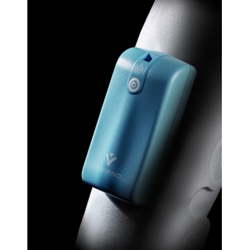 Venapro is a new, portable, and easy to use technology that will further enable us to lower your risks of getting a DVT following a surgery
Irving, Texas (PRWEB) October 21, 2014
The leading podiatry specialists at North Texas Foot & Ankle are proud to introduce VenaPro, a portable device designed to help prevent post-operative Deep vein thrombosis (DVT), which occurs when a blood clot forms in one or more deep veins, typically in legs.
Designed by DJO Global, a global provider of medical device solutions for musculoskeletal health, vascular health and pain management, the cordless VenaPro System leverages both portability and substantiated technology for premium at home DVT prevention. It is designed for optimal patient comfort and compliance. VenaPro provides compression that duplicates the blood flow of an ambulating patient. The device helps prevent dangerous blood clots deep inside the leg, during and post-surgery with its pre-set cycle.
The increased portability and self-contained design of VenaPro allows for better compliance. Weighing less than one pound, VenaPro is easy to operate at the touch of a button and has no restricting air hoses. Air releases cool the patient's leg and soft breathable cuffs add comfort to the device. It is operated by a re-chargeable battery and comes with a USB downloadable compliance monitor to ensure proper use.
"Deep Vein Thrombosis(DVT) is a surgical complication that your Podiatric surgeon will do everything they can to try and avoid as it can be greatly catastrophic," says Dr. Nagmeh Lilly Khavari, podiatrist at North Texas Foot & Ankle, "Venapro is a new, portable, and easy to use technology that will further enable us to lower your risks of getting a DVT following a surgery or any type of injury that may require you to have a prolonged period of non weight-bearing status. These can include but are not limited to fractures following sports injuries, and chronic ulcerations that require casting. Please ask any of our physicians at North Texas Foot and Ankle for more information regarding VenaPro and if it is right for you."
A doctor's prescription is required for the use of VenaPro. To learn more about VenaPro and Deep vein thrombosis, visit http://ntfoot.com or call 214-574-9255.
About North Texas Foot & Ankle
Started in 2001, North Texas Foot & Ankle specializes in treatment of all foot and ankle disorders. The team of board-certified doctors and trained office staff work together to provide individualized attention and treatment, as well as to maintain lasting relationships with patients. Offering a comfortable environment equipped with cutting-edge podiatric technology, North Texas Foot & Ankle provide treatments for children, adults and seniors. North Texas Foot & Ankle continues to raise the standards of foot and ankle care in a friendly and professional atmosphere with uncompromised integrity. Visit http://ntfoot.com for more information, or like North Texas Foot & Ankle on Facebook at http://facebook.com/ntfoot.