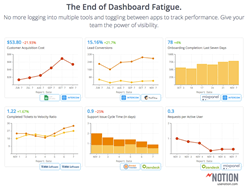 "Teams are running more tools than ever, but continue to struggle to track performance, spot problems, and tell their story with data, " said Dave Shanley, Notion's co-founder and CEO
Portland, OR (PRWEB) November 21, 2016
Team Intelligence software company Notion today released a new batch of SaaS integrations to unlock more, valuable, little data for strategic product, engineering, and customer success teams. Building on success of their Atlassian JIRA Software, Pivotal Tracker, and Zendesk integrations, Notion now has the ability to connect with Intercom, Mixpanel, Github, Bitbucket, Mailchimp, and Mailgun.
"Teams are running more tools than ever, but they continue to struggle to track performance, spot problems, and tell their story with data, " said Dave Shanley, Notion's co-founder and CEO. "Other tools that make you write SQL or have interfaces so complicated that you need consultants to implement them aren't going to be widely used by all of your teams. Teams need an effective way to quickly communicate and collaborate around the data they already have which is why we've launched these new data source integrations."
THE END OF DASHBOARD FATIGUE
With the majority of teams signing up for and running software as a service, comes the difficulty of getting everyone in an organization access to the critical information they need to make decisions. Growing teams realize that logging in to dozens of applications only to find incomplete dashboards and reports isn't the solution. Notion establishes a common place that an organization can discuss and collaborate around its data. A common place where every team in an organization can contribute their key performance indicators and metrics and maintain it over time without IT support or development.
MORE SAAS
The new integrations with Intercom, Mixpanel, Github, Bitbucket, Mailchimp, and Mailgun enable the easiest way for product, engineering, and customer success teams to collaborate together.
• Visualize Intercom segments over time to measure user engagement and activation trends
• Graph pull requests from Github and Bitbucket to identify bottlenecks in a development workflow
• Measure customer acquisition metrics by displaying sign up counts and open rates from Mailchimp
• Stay ahead of problems by charting complaints, failures, and unsubscribe trends from Mailgun

Unlock product engagement insights by easily building a dashboard of Mixpanel data
MIX AND MEASURE
Mashup data from Google Sheets, JIRA Software, Pivotal Tracker, Zendesk, the Notion API, and other integrations or data sourced directly from a team. The power is in giving business users the most agile way of combining what matters to them.
A few examples:
• With the Notion Recipe Builder, add data to a dashboard from Zendesk and JIRA Software to get end-to-end ticket resolution times

Divide Mixpanel custom events by Intercom user counts to understand user adoption rates over time
• Compare new signups in Intercom with Mailchimp list subscribers to understand the lead to conversion ratio
"Complicated BI tools result in people thinking that working with data is complicated, or requires a technical skill set that they don't have," said Kevin Steigerwald, Notion's other co-founder and CPO. "With our direct integrations, custom recipe builder, and ability to easily mix and match data from your tools, we've eliminated the initial hurdle of collecting data and are letting teams focus on what really matters: collaboration and communication."
ABOUT NOTION
Notion is the data tool that your team will actually use. Founded in 2015 by startup veterans that were frustrated by existing business intelligence tools, Notion requires no coding, no IT, and no complicated set up to give your team the visibility they need to be successful. Learn more at http://usenotion.com.