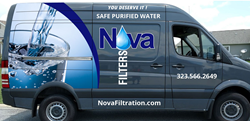 ATLANTA (PRWEB) February 18, 2019
"NOVA FILTERS" Novafiltration.com today announced it will offer select franchise opportunities in Atlanta, Georgia
Every homeowner wants and deserves healthy, safe water for drinking, cooking, washing and all normal household needs. Many US consumers are recognizing the need and seeking great tasting odor and chemical free water. Municipal water sources and well water once thought to be pristine are now a source of concern since the underground aquifers have been comprised. Nova Filtration's proprietary products, designs and expertise offers and delivers that very level of water purification.
About NOVA FILTRATION :
The founder Bob Novak in 1974 founded Pets Warehouse a successful company specializing in Aquaria and high tech aquarium filtration. This unique background developing filtration for delicate marine fish and corals has produced these unique and highly efficient filtration systems for in home use. Moreover, designed and assembled in the USA successfully using and upgrading the Nova filtration products throughout the years. These many years of hard work, learning and water filtration experience are the basis for the proprietary design techniques and manufacture of the Nova Filtration equipment fabricated and modified to meet the needs and requirements of Florida's water purification process.
For more information on The Nova Filters franchise opportunities, please visit: http://www.NovaFiltration.com
Call 352.566.2649
Email info@NovaFiltration.com