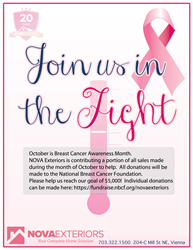 It's so important to give back to our local community whenever we can...
(PRWEB) October 02, 2014
According to the National Breast Cancer Foundation, one in eight women will be diagnosed with breast cancer in their lifetime. The continued battle against Breast Cancer has a drastic impact on the lives of families and entire communities, not just the women going through it. With the overwhelming number of families effected, NOVA Exteriors, a local home remodeling company, will be donating the administrative fees for each new contract to the National Breast Cancer Foundation.
Peter Vlantis, owner of NOVA Exteriors, believes, "It's so important to give back to our local community whenever we can, and the NBCF provides a great platform to assist in our efforts to raise money and awareness for their cause." Whether it be a small initiative in their local town of Vienna, VA, or on a national level, such as battling breast cancer, NOVA Exteriors is constantly striving to give back where ever they can. In honor of Breast Cancer Awareness Month, NOVA Exteriors has set a goal of a total of $5,000, between admin fees and nominal donations, from all company sales in the month of October.
That National Breast Cancer Foundation has made it their mission to inform women about breast cancer and early detection by funding educational programs and offering uninsured woman mammograms. NBCF also contributes a portion of their income to research.To make a donation to the Nova Exteriors Breast Cancer Awareness Fundraiser, please go here.
Nova Exteriors is a Fairfax County, VA based home remodeling company that helps homeowners with full replacement projects to increase energy efficiency, curb appeal, and home value. Nova Exteriors has done over 10,000 projects in the Washington DC metropolitan area since its inception in 1995. For further information please visit their website or call (703) 322-1500.