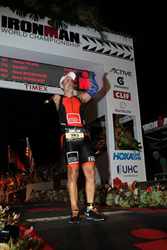 Fort Lauderdale, FL (PRWEB) October 13, 2016
Credentialed media are invited to attend an Olympic-style ceremony at Broward Children's Center (BCC) where record-breaking South Floridia adaptive athlete Hector Picard will present the center's young patients with the finisher's medal and race sleeve from his recent Ironman World Championship.
Last weekend, Picard made history as the first-ever double arm amputee to finish the grueling 140+ mile triathlon. His race was dedicated to BCC and he has been raising funds for the center at 25+ triathlons throughout the year, each dedicated to a child there.
WHAT: Ceremony for inspiring South Florida adaptive athlete Hector Picard to present his Ironman World Championship Medal to the kids of Broward Children's Center, for whom he raced.
WHO: The world's first double arm amputee Ironman World Championship finisher Hector Picard will be joined by representatives from his sponsor Novation Settlement Solutions and Broward Children's Center, along with the center's children and their families.
WHEN: Wednesday, October 19 at 4:00 p.m.
WHERE: Broward Children's Center, 200 SE 19th Ave, Pompano Beach, FL 33060. (Additional parking is located around the back of the building.)
R.S.V.P.: Pamela Armstrong, pamela(at)redbanyan.com, 954-379-2115 x1