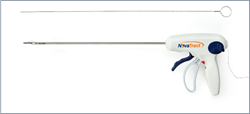 Madison, Conn. (PRWEB) April 01, 2014
With changing healthcare reform, surgeons, hospitals, and the medical device industry are looking for ways to be more efficient and provide higher quality care to the patients they serve. The drive towards less invasive surgical procedures is more relevant now than ever. However, technical challenges and learning curves make the movement to less invasive procedures a challenge for some.
NovaTract Surgical, Inc., a venture-backed startup medical device company, recently launched the NovaTract™ to help aid in the movement towards less invasive laparoscopic surgery. The device is a 5mm laparoscopic dynamic retractor that allows surgeons to manipulate and grasp tissue or organs without making unnecessary incisions. With its exclusive tension-adjusting system and the ability to modify the angle of retraction internally, the NovaTract™ allows the advanced laparoscopic surgeon to achieve less invasive reduced-port surgeries without changing surgical technique.
To prove this concept, Kurt E. Roberts, M.D., associate professor of surgery at Yale University School of Medicine, used the NovaTract™ in a series of laparoscopic cholecystectomy cases at Yale-New Haven Hospital to remove the gall bladder using only two incisions, as compared with traditional techniques, which require four incisions, two of which are used only to retract the gall bladder for visibility of critical anatomy during the procedure.
The preliminary results of the five consecutive case series proved that the NovaTract™ Laparoscopic Dynamic Retractor is easy to use, has little to no learning curve, allows the surgical approach to mimic more conventional laparoscopic approaches, and will enable the reduction of dedicated incisions used for retraction of tissue. A laparoscopic cholecystectomy can easily be performed with only two incisions – a small incision in the belly button for the camera and a small incision above the belly button for working instruments.
Dr. Roberts will present this approach to laparoscopic cholecystectomy at the upcoming SAGES 2014 Surgical Spring Week in Salt Lake City, Utah at the NovaTract Surgical, Inc. Booth (#1129) on Thursday, April 3, at 3:30 p.m. In addition to this presentation, an abstract was submitted and accepted into the Emerging Technology Poster Session by Koji Park, M.D., minimally invasive surgery fellow at Yale University School of Medicine, summarizing this case series and will be on display throughout the week.
The NovaTract™, intended for retraction of tissue, organs and other structures in general, colorectal, gynecologic, urologic, and robotic-assisted minimally invasive procedures, was recently recognized by The Society of Laparoendoscopic Surgeons (SLS) as one of the 2013 Innovations of the Year. SLS recognizes the most innovative products of the past year that have a multidisciplinary application in minimally invasive surgery. Surgical Products Magazine recognized the NovaTract™ dynamic retractor in their 5th annual Excellence in Surgical Products Awards with second place in the Instrumentation category. Nominees were evaluated by a panel of expert users of cutting-edge products and innovative technology, for their contribution to surgical performance, efficiency and safety.
For more information about the NovaTract™ laparoscopic dynamic retractor, please contact info(at)novatract(dot)com or (203) 533-9710.
About NovaTract Surgical, Inc.
Founded in April 2010 by Eleanor L. Tandler, chief executive officer, based on technology conceived by Kurt E. Roberts, M.D., associate professor of general surgery at Yale University School of Medicine, NovaTract Surgical, Inc. was established to introduce innovative medical devices to the operating room that would enable surgeons to more efficiently treat their patients. With the continued focus on improving current practices in minimally invasive surgery while being sensitive to the economic climate and concerns in health care, NovaTract Surgical, Inc. is dedicated to not only providing clinical solutions but also to simultaneously offering value-added products to the entire surgical suite. NovaTract Surgical, Inc. was listed among Connecticut Technology Council's "Companies to Watch" in 2010 and 2011.