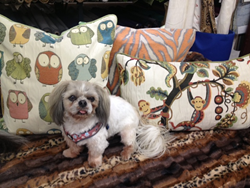 San Mateo, CA (PRWEB) June 19, 2015
Norman S. Bernie Co. prides itself on having the finest decorative fabric inventory in Northern California, serving the greater San Francisco Bay Area since 1957. Novelty fabrics are an essential part of their vast and beautiful inventory; ideal for anyone wanting to enliven, provide contrast and put a little zing and zip into their existing decor.
Norman S. Bernie Co. stocks a number of very popular novelty fabrics, including "Document" (featured at Restoration Hardware) from Lacefield Designs; "Angler: Morning" from Regal Fabrics; gorgeous and fun multi-colored patterns "Crazy ol' Bird: Midnight," "Monkeying Around: Teak," "Cluck U," "Give a Hoot: Caribbean," Something's Fishy: Tropical, and "Crabwalk: Aqua" from Swavelle/Mill Creek Fabrics; "Postcards," a striking 100% cotton pillow pattern from Golding Fabrics.
And, feather/down pillow forms always are available at Norman S. Bernie Co., in sizes ranging from 16"x16" to 27"x27", plus a rectangular "14x20," cushy and soft, ideal as decorative throw pillows covered with lively novelty fabrics.
Whether customers are looking for novelty fabrics as accents, or to use as upholstery fabrics and even as drapery fabrics, they are sure to brighten up any decor. So why wait? Make a date to visit Norman S. Bernie Co., the go-to destination for the finest decorative fabrics at discounted prices, and the friendliest, most expert customer service in the industry.