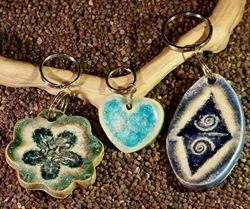 The combination of textured clay and a smooth, crushed glass finish yields a stunning gift for young and old.
Ferndale, WA (PRWEB) August 28, 2014
As parents prepare piles of school supplies and fresh clothing, they often feel the need for a personalized gesture or token to send along. Beyond the note in the lunchbox, parents can choose a unique gift for their child to customize their bag or lunch sack. Back at home, a magnet for the fridge is the perfect way to celebrate their accomplishments when kids bring home work to display. From now until October 1, 2014, shoppers will receive a small Key Chain Zipper Pull as a free gift to attach to their child's, or young friend's, backpack or lunch sack. They will know which one is theirs with a special piece to hold each day.
These gifts are playful enough for young children, as well as sturdy, and sophisticated enough for older school kids. The magnets are a gem with a hand-sculpted clay base and dazzling depth of color inside. Paloma offers eco-friendly designs for the cat lover or dog lover of any age; sharks, crocodiles or butterflies for aspiring zoologist. With oversized magnets attached to each piece for maximum holding power, these treasures will hold up to many seasons of creativity.
Paloma Pottery's revolutionary design utilizes discarded or broken glass and recycles these into a melted, smooth to the touch finish. With colors ranging from warm earth to cool ocean and sunset golds, all personalities are sure to be delighted. "The combination of textured clay and a smooth, crushed glass finish yields a stunning gift for young and old," says founder Nicole Whitney. Their designs have evolved to complement a wide range of tastes, which keeps customers coming back year after year. The daisy or the dogwood, aspen leaves, hearts or the classic star. These are sensible as well as fanciful - an ideal complement to a child's belongings away from home.
The team at Paloma Pottery specializes in small gestures with big appeal at an affordable price. Every purchase also comes with the reassurance of supporting small-scale, ethical business practices. Based along Washington's north sound, at the foot of the Salish Sea, the fruits of this business are as unique as the landscape that inspires them. There is a touch of magic in each creation, a quality that is tangible in every finished piece.
About Paloma Pottery:
Paloma Pottery has been online for 14 years now, and the mark of endurance shines through its work. Continually improving and expanding her line, Founder Nicole Whitney has grown Paloma Pottery into a thriving artisan presence. For those who are seeking exceptional quality gifts with a unique, eco-friendly design as well as solid business ethics, PalomaPottery.com is the place. For more information, please visit http://www.palomapottery.com or call 877-669-0783.