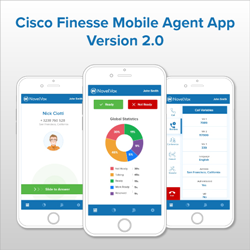 It supports both iOS and Android platforms to provide uninterrupted, integrated agent-customer interaction to contact centers of all types and sizes.
BETHESDA, Md. (PRWEB) June 25, 2019
NovelVox, the pioneer in providing optimized industry-specific contact center solutions, has launched the Cisco Finesse Mobile Agent Version 2.0 app, designed to deliver NextGen contact center solutions to field agents on the go. Based on the success of the previous version and the popularity that it had among the contact center professionals, NovelVox launched an upgraded version 2.0. It comes with some major improvements with regard to integration and user interface. It also brings in features like call tagging, call wrap up, agent statistics, location-based agent tracking among other numerous capabilities that one would find on a local contact center.
Contact center operations today have gone mobile and agents can now access all the contact center functions through their mobile/tablets. NovelVox Mobile Agent Ver. 2.0 makes it possible by extending all the core contact center competencies to a remote user. Agents can now deliver exceptional customer service beyond the contact center floor with enhanced integration and user interface. The upgraded version comes with all the key functionalities and capability that one could find on a contact center floor. Mobile/field agents can use Cisco Mobile App to handle calls from anywhere, with all the required integration and information.
NovelVox Cisco Mobile Agent 2.0 is compatible with UCCE, UCCX, and PCCE (both bridged and nailed connection) to offer seamless interaction with Cisco contact centers. It got advanced security features, with a fresh intuitive user interface that empowers the agent to deliver better call resolutions with reduced Average Handling Time (AHT). This results in enriched user experience and boosts the individual performance of agents on the field or at remote locations by enabling them to attend more calls in less time.
NovelVox CEO Amit Gandhi states "staying ahead of the market trend, we (NovelVox) have once again successfully brought in a revamped and friendlier version 2.0 of Cisco Finesse Mobile Agent App for agents who spend time working away from their contact centers. This, like its previous version, is fast gaining popularity among contact center professionals working on the field or remote locations due to the flexibility and high capabilities that it has to offer." He further says that "it provides seamless integrations to core applications of various industries so that remote agents can readily access all customer information on their mobile devices to deliver quality customer experience irrespective of where they are."
Cisco Mobile Agent can be integrated with any 3rd party application, CRM, ticketing system, middleware, WFM, ERP, databases, homegrown applications, etc. using Java, SOAP/XML, REST, SQL, JavaScript, .Net or any open API framework. Cisco Mobile app pulls information from all these back-end channels so that the agents get a single-screen view of the complete customer journey right on their mobile screens. This assists agents to deliver an interactive and engaging customer service even from remote locations. Cisco Mobile Agent 2.0 app interface can be easily optimized as per the industry-specific requirements of the particular Cisco contact center. It can also be connected via the internet or VPN so that the agents get all their information and gadgets while being mobile.
With all the latest features and functions, NovelVox is offering Cisco Finesse Mobile Agent App Ver. 2.0 to contact center professionals at a very decent and competitive price structure. It supports both iOS and Android platforms to provide uninterrupted, integrated agent-customer interaction to contact centers of all types and sizes—with zero infrastructure costs. Contact centers will also have the option of adding more mobile agents during seasonal highs to handle the sudden demand surges with no additional costs. For quick implementation and assistance, visit the website or write at info(at)novelvox.com.
About NovelVox:
Established in 2008, NovelVox is a global software company that has been developing flexible Contact Center Agent Desktops, Contact Center Wallboards and other contact center applications for customers of all sizes, ranging from Enterprise Organizations to more dynamic customer-centric companies—depending on the client's requirements and needs. At NovelVox, special attention to detail is given while designing the products so that it complements a variety of Contact Center applications including, Cisco, Avaya, and Genesys.
NovelVox aims to provide every client with a fully customized agent/supervisor desktop that will empower contact center agents with the right information at the right time, every time.
Over the past decade, NovelVox has established 5 global offices, made customers in 16+ countries with 150+ global deployments across many business verticals, including Banking, Telecoms, Logistics & Travel, Healthcare, Government, Education, and Retail.