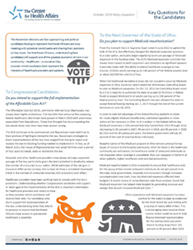 Cleveland, Ohio (PRWEB) October 14, 2014
The November elections are fast approaching and political candidates hoping to represent Northeast Ohioans are busy meeting with potential constituents and sharing their positions on key issues. For Northeast Ohioans, understanding how candidates will support one of the greatest economic drivers in our community – healthcare – is crucial as they consider which candidates best represent the interests of healthcare providers and patients.
The Center's October 2014 Policy Snapshot, Key Questions for the Candidate, aims to highlight some pressing issues that healthcare providers and consumers can consider as they contemplate which candidates will receive their votes during the November elections. For example, as voters decide which gubernatorial candidate to support, understanding whether each candidate plans to support Medicaid reauthorization in Ohio is crucial. Also, understanding what plans all candidates have to support improved health in the region is also important.
To browse related information and resources cited in this publication, visit The Center's Ohio Elections Pinterest board.
A full list of The Center's publications can be found on the website along with a wide range of resources covering a variety of health policy issues.
###
With a rich history as the Northeast Ohio hospital association, dating back to 1916, The Center for Health Affairs serves as the collective voice of hospitals and the source for Northeast Ohio hospital and healthcare information. As the leading advocate for Northeast Ohio hospitals, The Center aims to enhance the effectiveness of the healthcare community and the health of the communities it serves by providing expertise, resources and solutions to address the challenges faced by the region's healthcare providers. The Center's efforts focus on areas that benefit member hospitals from a regional approach, including healthcare workforce; emergency preparedness; public policy and advocacy; finance and reimbursement; and community initiatives. And because of its business affiliation with CHAMPS Healthcare, The Center has the resources to provide a broad level of professional services to its members. The Center, located in downtown Cleveland, is proud to advocate on behalf of 34 acute-care hospitals and two long-term acute-care hospitals in six counties. The Center for Health Affairs is honored to be named as one of The Cleveland Plain Dealer's Top Workplaces in 2014 and to ERC's Northcoast99 List in 2003, 2004, 2010, 2012 and 2014. For more, visit chanet.org.