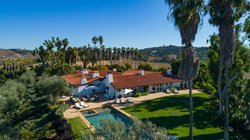 Where Real Estate Is Never Boring!
POMPANO BEACH, Fla. (PRWEB) December 01, 2022
November's Top 10 Celebrity Real Estate News
"Sandra Bullock's Home & Avocado Farm"
Sandra Bullock isn't just America's sweetheart, Oscar-winning actress and great mom, she's also a real estate mogul with properties from coast to coast. She recently listed her California citrus-and-avocado farm for $6 million. Located near San Diego, the property includes a 6,000-square-foot home and 1,200 avocado trees.
"Britney Lists Her Florida Beach Home"
Florida's Panhandle is beautiful with some of the state's top-rated beaches, and it has a reputation as being a little bit adventurous too. Kind of like Britney Spears who recently listed her three-bedroom beach condo in the city of Destin on the Panhandle for $2 million.
"Elvis Presley's House of Tomorrow Sells At Full Price"
Elvis Presley is one of the top dead-celebrity money makers, still bringing in millions of dollars every year from record sales and merchandising. One of his former homes, the Palm Springs House of Tomorrow, just sold for $5.65 million.
"Ivana Trump's New York Townhome For Sale"
Ivana Trump's longtime New York townhome has hit the market at $26.5 million. Dripping in gold leaf, elegant chandeliers and crown moldings, Ivana bought the five-story, Upper East Side home in 1992, shortly after her divorce from Donald Trump. Ivana was found dead in the home earlier this year. Proceeds from the sale will go to her three children: Donald Trump Jr., Eric Trump and Ivanka Trump.
"Trevor Noah Lists Dramatic Manhattan Penthouse"
One of the world's most eligible bachelors, Trevor Noah has listed his Manhattan penthouse at $12.95 million. With unobstructed views of the city and the Hudson River in the city's Hell's Kitchen neighborhood, the three-bedroom, 3,600-square-foot duplex apartment has been carefully updated since Trevor bought it in 2017.
"Ryan Seacrest Finally Sells In LA"
It took two years and a big price reduction but Ryan Seacrest has finally sold his Beverly Hills home. Ryan put the 9,000-square-foot home on the market in late 2020 at $85 million. It just sold for $51 million.
"Marilyn Monroe & Arthur Miller's New York Apartment"
Marilyn Monroe's third marriage, after James Dougherty and Joe DiMaggio, was to playwright Arthur Miller. Their former New York apartment is for sale at $3.05 million. The Arthur Miller and Marilyn Monroe wedding house was also recently on the market.
"Gisele Bündchen Moves Closer To Tom Brady"
Gisele Bündchen just purchased a 6,000-square-foot Miami Beach home that is within swimming distance to ex-husband Tom Brady's new house. Gisele paid $11.5 million for a five-bedroom home that is across Indian Creek from where Brady is building his home on Billionaire Bunker. Bündchen also recently purchased a nearby three-bedroom home for $1.3 million.
"Kylie & Travis List Beverly Hills Mansion"
Kylie Jenner and Travis Scott have listed their Beverly Hills home for $21.9 million. The glamour couple bought the seven-bedroom home with almost 10,000 square feet in 2018 for $13.5 million.
"The Gwyneth Paltrow Childhood Mansion"
One of Santa Monica's prettiest homes was once owned by Hollywood stars Bruce Paltrow and Blythe Danner - the childhood home of Gwyneth Paltrow. The home with almost 6,900 square feet, a Balinese-inspired pool & spa, a three-car showroom with walls of glass overlooking the pool, and a two-story guesthouse with gym, dry sauna, bedroom and office is for sale at $17.5 million.
For more celebrity home news and celebrity home video tours, visit TopTenRealEstateDeals.com.