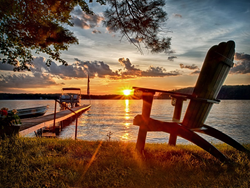 Bring your dream cottage or vacation home to reality this year and get ready for summer fun, create some new family memories or just put your toes in the sand at our comprehensive showplace
NOVI, Mich. (PRWEB) February 14, 2017
The 10th annual Cottage & Lakefront Living Show for property and vacation homeowners or those looking to buy, build or rent opens Thur., Feb. 23 and runs through Sun., Feb. 26 at the Suburban Collection Showplace in Novi.
"Winter has its hold on us but it's not too early to start thinking about summer plans," said Dawn Baker, show manager of ShowSpan, Inc. "Our preseason event is the perfect place to begin with exhibits for building or renting a cottage, replacing a dock or seawall, adding cottage furnishings or water toys and you are able to walk through two decorated and furnished cabins."
Cottage Living Seminar experts will explain how to set up a cottage family succession plan; tips for cottage and lakefront landscapes; and explore other opportunities to make it the best season at the cottage yet. Attendees can list their cottage or look for availability on the Cottage for Sale or Rent Board.
Michigan artists at the Cottage Fine Art Show will present metal art, furniture, jewelry, pottery, photography, cottage décor and paintings for sale. Home décor, decorative accessories and handcrafted items will be available for purchase at the Lakefront Marketplace.
Adults and children are invited to build a sand castle at The Beach, the show's giant sandbox. Everyone can participate in stories around the campfire, camp crafts and climbing a rock wall at the Cran-Hill Family Fun Zone. Families can place a pin in an oversized Michigan map to show where their cottage is located.
DreamCatcher BoatWorks of Grand Rapids will be building a double paddle canoe using the strip method and displaying a sea kayak built at last year's show and classic-styled skateboards and longboards. Michigan Chapter of the Antique and Classic Boat Society, dedicated to the preservation and enjoyment of historic boats, will have restored boats on display.
The Water & Woods Photo Contest Display allows showgoers to choose the photo that best captures cottage and lakefront living.
Exhibits with displays, information and educational materials include lakefront cottage and homebuilders, new construction log, timber frame and cedar homes, realtors, cottages for sale or rent, cottage furnishings and accessories, shoreline and cottage landscaping, lakeshore maintenance, docks, boatlifts, seawalls, outdoor recreational equipment, stand-up paddleboards, financing and other products and services. Private consultations with a builder, remodeler, contractor or architect are available.
Landscaping ideas to increase outdoor living space are incorporated into displays that include fireplaces, cooking options, patios, decks and garden products. Entry level to luxury pontoon boats, fishing boats, family sport boats, jet skis, kayaks and runabouts will all be on display.
Experts throughout the show will provide tips, advice and knowledge on purchasing, renting, planning and maintaining spring, summer and year-round cottage and lakefront homes.
"Bring your dream cottage or vacation home to reality this year and get ready for summer fun, create some new family memories or just put your toes in the sand at our comprehensive showplace," said Baker.
Suburban Collection Showplace is located at 46100 Grand River Ave. between Novi and Beck Road in Novi, Mich. Show hours are from 1 – 9 p.m. Thursday; 11 a.m. – 9:30 p.m. Friday; 10 a.m. - 9 p.m. Saturday and 10 a.m. - 5 p.m. Sunday. Admission is $10; $4 for children 6-14 and children 5 and under admitted free. Discount promo code for Thursday or Friday online $8 ticket purchase is LAKE. Free crossover admission from the Cottage & Lakefront Living Show to Outdoorama. On-site parking is available for a fee. For more information, visit http://www.NoviCottageShow.com, Facebook.com/CottageAndLakefrontLiving or call (800) 328-6550.