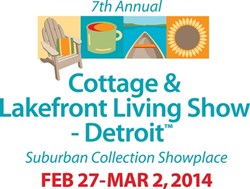 We offer vacationers and homeowners the opportunity to explore new ideas and plan for this summer's family experiences and memories.
Novi, MI (PRWEB) December 18, 2013
The seventh annual Cottage & Lakefront Living Show returns to the Suburban Collection Showplace in Novi Thursday, Feb. 27 and runs through Sunday, March 2.
"Our preseason event is for anyone who owns or dreams of owning a cottage or lakefront home," said Mike Wilbraham, show producer of ShowSpan, Inc. "We offer vacationers and homeowners the opportunity to explore new ideas and plan for this summer's family experiences and memories."
The Log and Timber Frame Showcase will include how a cabin is put together, floor plans, profiles, roof options, log species, cedar siding, full logs, post and beam and do-it-yourself or contractor built home packages. Builders and contractors will be available for scheduled private consultations through the show's website.
Cottage Living Stage experts will explain how to set up cottage ownership within a family for sharing and handing down; describe science-based practical application smart gardening designed to be sensitive to the environment, lower the environmental impact and reduce time and money spent on lawns, soil and plants; and explore other ways to enjoy a cottage more.
Michigan Natural Shoreline Partnership will provide informal advice and educational materials from Michigan Department of Natural Resources, Michigan Department of Environmental Quality, Michigan Lake & Stream Association and other agencies, organizations, contractors and landscape professionals on shoreline construction projects and natural shoreline landscaping that benefit lake ecosystems and protect Michigan's inland lakes.
Michigan artists at the Cottage Fine Art Show will present Great Lakes and Michigan inland lakes steel silhouettes, Petoskey stone art, rustic and driftwood furniture, copper-enameled garden art, jewelry, wood lake art, hand-carved cottage décor and signage, chainsaw carvings and wildlife oil paintings for sale. Home décor, furnishings, decorative accessories, handcrafted ceramic art tiles and gourmet and specialty appetizers and foods will be available for purchase at the Lakefront Marketplace.
DreamCatcher BoatWorks of Grand Rapids will display custom-built, lightweight, high performance, wood-covered fiberglass crafts and demonstrate handcrafted building techniques on a stand up paddleboard. Michigan Chapter of the Antique and Classic Boat Society, dedicated to the preservation and enjoyment of historic boats, will have boats on display.
The Beach, a giant sandbox complete with carving tools, will be ready for creative building of sand sculptures and castles by children and adults. Children will have the opportunity to fish at the Trout Pond fully stocked by Michigan B.A.S.S. Federation Clubs and play in the kid's activity center at the Cran-Hill Family Zone.
Cottage Living Center will provide the opportunity to relax and work on a community puzzle, put a pin in an oversized Michigan map to show where cottages are located, listen to the 2014 Cottage Favorite Play List music and read or purchase a 2014 Essential Cottage Reading List book. Patrons owning cottages are able to post them on the Cottage for Sale or Rent Board.
The Water & Woods Photo Contest Display will allow voting for the best photo that illustrates cottage and lakefront lifestyles.
Landscaping ideas to increase your outdoor living space are incorporated in landscape displays that include wooden cabins, fireplaces, cooking options, patios, decks and garden products. Other exhibits with information and educational materials for those looking to buy, build, rent or maintain cottage and lakefront property include log, timber frame and cedar homes, cottage rental, cottage furnishings, lakefront homebuilders and realtors, lakeshore maintenance, boats and docks, outdoor recreational equipment, non-profit environmental organizations, government agencies, financing and other products and services. Experts throughout the show will provide tips, advice and knowledge on purchasing, renting, planning and maintaining spring, summer and year-round cottage and lakefront living homes.
Suburban Collection Showplace is located at 46100 Grand River Ave. between Novi and Beck Road in Novi, Mich. Show hours are from 3 – 9:30 p.m. Thursday; Noon – 9:30 p.m. Friday; 10 a.m. - 9 p.m. Saturday and 10 a.m. - 5 p.m. Sunday. Admission is $10; $4 for children 6-14 and children 5 and under admitted free. Discount coupons for $2 off Thursday or Friday box office adult admission are available at show's website and participating Wendy's restaurants. Free crossover admission from the Cottage & Lakefront Living Show to Outdoorama. On-site parking is available for a fee. For more information, visit http://www.NoviCottageShow.com, Facebook.com/NoviCottageShow or call (800) 328-6550.