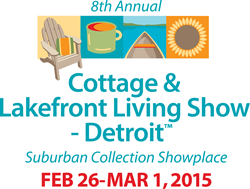 Whether it's building or renting a cottage, replacing a dock or seawall or adding furniture or water toys, attendees will find ideas and products at our comprehensive showplace.
NOVI, Mich. (PRWEB) February 17, 2015
The eighth annual Cottage & Lakefront Living Show for property and vacation homeowners or those looking to buy, build or rent opens Thur., Feb. 26 and runs through Sun., Mar. 1 at the Suburban Collection Showplace in Novi.
"Breakaway from winter and start preparing for warmer weather at our preseason event," said Dawn Baker, show manager of ShowSpan, Inc. "Whether it's building or renting a cottage, replacing a dock or seawall or adding furniture or water toys, attendees will find ideas and products at our comprehensive showplace."
'Grillogists' Mad Dog & Merrill will share "GRATE Lakes Grilling at the Cottage" tips featuring grilled comfort food of snacks and sweet dessert treats as seen on their Midwest Grill'n TV Show, ESPN and Food Network.
Cari Cucksey from HGTV's "Cash & Cari" will appear on the Cottage Living Stage and reveal how she refurbishes just about anything she can get her hands on during her "RePurposing with Cari Cucksey" presentation and will exhibit furniture from her vintage store and her RePurpose ReColor Paint & Stain line.
The Log and Timber Frame Showcase will include how a cabin is put together, floor plans, profiles, roof options, log species, cedar siding, full logs, post and beam and do-it-yourself or contractor built home packages. Scheduled private consultations with builders and contractors can be arranged in advance through the show's website. Other exhibitors will have tiny houses, wood and vinyl-sided cottages, potting sheds and general storage sheds.
Children and adults will have the opportunity to roll around inside an inflatable transparent plastic Zorb Globe in a full size pool at the Cran-Hill Family Zone. Janet Moore Schrader of Sand Pirate - Professional Sand Sculptor in Lakeside, Mich. will share secrets of sand as she builds a giant sandcastle and teaches how to make towers, doors, windows and stairs at The Beach, a giant sandbox for creative building of sand sculptures complete with carving tools.
Cottage Living Stage experts will explain how to set up cottage ownership within a family for sharing and handing down; tips for cottage and lakefront lawns; science-based practical application smart gardening designed to be sensitive to the environment, lower the environmental impact and reduce time and money spent on lawns, soil and plants; and explore other ways to enjoy a cottage more including wild mushroom hunting and fishing.
DreamCatcher BoatWorks of Grand Rapids will display custom-built stand up paddleboard, double-paddle canoe and MiniMax hydroplane and demonstrate handcrafted building techniques. Michigan Chapter of the Antique and Classic Boat Society, dedicated to the preservation and enjoyment of historic boats, will have restored boats on display.
Michigan Lake & Stream Association will provide informal advice and educational literature on shoreline construction projects and natural shoreline landscaping that benefit lake ecosystems and protect Michigan's inland lakes and streams from Michigan Department of Natural Resources, Michigan Department of Environmental Quality and other agencies, organizations, contractors and landscape professionals.
Michigan artists at the Cottage Fine Art Show will present nature photography, lake depth maps, Great Lakes and Michigan inland lakes steel silhouettes, Petoskey stone art, rustic and driftwood furniture, garden metal art, jewelry, glass artwork, hand-carved cottage décor and signage, chainsaw carvings and wildlife oil paintings for sale. Home décor, furniture, decorative accessories, hummingbird feeders, wood nautical charts and handcrafted ceramic art tiles will be available for purchase at the Lakefront Marketplace.
Cottage Living Center will provide the opportunity to relax and play board games, put a pin in an oversized Michigan map to show where cottages are located, listen to the 2015 Cottage Favorite Play List music and meet authors and purchase their books from the 2015 Summer Cottage Reading List. Patrons owning cottages are able to post them on the Cottage for Sale or Rent Board.
The Water & Woods Photo Contest Display will allow voting for the best photo that captures the cottage and lakefront lifestyles.
Landscaping ideas to increase outdoor living space are incorporated in landscape displays that include wooden cabins, fireplaces, cooking options, patios, decks and garden products. Entry level to luxury pontoons, fishing boats, bowrider boats, family sport boats, jet boats and runabouts will be on display. Other exhibits with information and educational materials for those looking to buy, build, rent or maintain cottage and lakefront property include log, timber frame and cedar homes, cottage rental, cottage furnishings, lakefront homebuilders and realtors, lakeshore maintenance, boats and docks, outdoor recreational equipment, non-profit environmental organizations, government agencies, financing and other products and services. Experts throughout the show will provide tips, advice and knowledge on purchasing, renting, planning and maintaining spring, summer and year-round cottage and lakefront homes.
"You can start your summer early by playing at The Beach or attempting to be a human hamster at the Cran-Hill Family Zone," said Baker. "Shopping opportunities abound for kayaks, stand up paddleboards or cottage furniture and accessories.
Suburban Collection Showplace is located at 46100 Grand River Ave. between Novi and Beck Road in Novi, Mich. Show hours are from 3 – 9:30 p.m. Thursday; Noon – 9:30 p.m. Friday; 10 a.m. - 9 p.m. Saturday and 10 a.m. - 5 p.m. Sunday. Admission is $10; $4 for children 6-14 and children 5 and under admitted free. Discount coupons for $2 off Thursday or Friday box office adult admission are available at show's website. Free crossover admission from the Cottage & Lakefront Living Show to Outdoorama. On-site parking is available for a fee. For more information, visit http://www.NoviCottageShow.com, Facebook.com/NoviCottageShow or call (800) 328-6550.