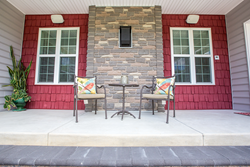 NovikShake in StainNatural proprietary colors and Exteria stone capitalize on today's hot trend toward mixed materials on home exteriors. They can be used together or with fiber cement, clapboard, vinyl or stucco.-- Ralph Bruno, Novik's President
Quebec City, Quebec (PRWEB) October 04, 2016
Novik, which stands to define two new innovative categories in building materials, will highlight its NovikShake with StainNatural color technology and Exteria brands at the Remodeling/DeckExpo/JLC Live (RDJ) Show in Baltimore, MD, October 6 and 7, 2016 at booth #1809.
Novik's cutting-edge technologies actually bring shake into a new realm, with the industry's only true, semi-transparent wood stain applied to a polymer shake in a color technology process known as StainNatural. A low-maintenance alternative to stained wood, it gives the NovikShake an unparalleled realism. Available in six rich colors inspired by nature, NovikShake's StainNatural color collection has a limited lifetime warranty and a 10-year warranty against any fading.
Novik also debuts its Exteria line, a new category of stone that merges authentic looks with affordable luxury. The stone looks can be combined with NovikShake or virtually any type of siding. The new "romancing of stone," says Bruno, which has made stone looks desirable but unattainable for most budgets, can now bring them to interiors as well—man caves, basements, wine cellars or as an accent to any room of the home. Clinics will be held next to the Novik/Exteria booth at Booth #1609 throughout the two-day show.
The shake and stone product lines fulfill homeowner demand for low-maintenance, being impervious to moisture and therefore perfect for ground contact, unlike other materials.
"NovikShake with StainNatural and Exteria stone capitalize on today's hot trend toward mixed materials on home exteriors," said Bruno. They can be used together or with fiber cement, clapboard, vinyl or stucco." One trend he mentioned features stone as the foundation cover, any siding in the mid-section, with shake adorning the gables. "Monochromatic is out and mixed materials are in," said Bruno. "Our innovative product lines fit in perfectly with this trend."
Novik will host shake and stone design/installation clinics on Thursday and Friday next to the Novik booth 1809, at booth #1609 at 9:30 a.m.,11:00 a.m., 12:00 noon, 1:00 p.m. and in late afternoon sessions.
For more information, visit http://www.novik.com.
About Novik
Novik® is a premier manufacturer of NovikShake™, NovikStone™ and accents that replicate the natural beauty and texture of wood and stone materials. At the forefront of technology, Novik offers attainable luxury that is attractive and easy to install. Novik products are a perfect fit for builders, contractors, facility managers and consumers who take pride in the aesthetic appearance of their home or building. For more information, visit http://www.novik.com.
# # #