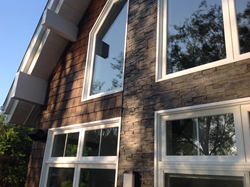 Novik's products are low-maintenance, naturally beautiful and easy to install, which is exactly what our customers are looking for.--Rob Brown, Branch Manager, Seven D, Phoenix, NY
Phoenix, NY (PRWEB) November 12, 2015
Novik, the manufacturer of NovikShake™ and NovikStone™, which replicate the natural beauty and texture of wood and stone materials, has signed a distribution agreement with the Phoenix, NY, branch of Seven D Wholesale. This will broaden the products' availability throughout the Northeast, including all of upstate NY.
"We are very excited to expand our relationship with Seven D," said Ralph Bruno, president, Novik Sales Corp. "Earlier this year their Rocky Hill, CT, branch started distributing our full line of Novik products. Adding the Phoenix, NY, location will accelerate our strong growth in this market."
Bruno explained that NovikShake has the natural beauty of cedar shake siding and features an advanced color technology called Stainnatural, which enhances its richness and earthy tones. NovikStone serves as the perfect lower wall and foundation accent for any siding type or style, with seamless joints and a beautiful, authentic stone appearance.
"Novik's products are low-maintenance, naturally beautiful and easy to install, which is exactly what our customers are looking for," said Rob Brown, Branch Manager for Seven D's Phoenix, NY, location. "I know the product lines will do very well for us as they have in our Connecticut location."
Novik products are readily available to dealers through Seven D's Phoenix , New York, and Rocky Hill, Connecticut, locations. For more information about Novik's products, including dealer locations, visit http://www.novik.com.
About Novik
Novik® is a premier manufacturer of NovikShake™, NovikStone™ and accents that replicate the natural beauty and texture of wood and stone materials. At the forefront of technology, Novik offers attainable luxury that is attractive and easy to install. Novik products are a perfect fit for builders, contractors, facility managers and consumers who take pride in the aesthetic appearance of their home or building. For more information, visit http://www.novik.com.
About Seven D Wholesale
Seven D (7D) Wholesale is a wholesale distributor of quality building products with four regional distribution centers serving the Northeast and brokerage offices providing services to customers throughout the contiguous 48 states. The company's services are tailored to the specific needs of customers, from single independent retailers to industry giants. Learn more at http://www.7dwholesale.com.