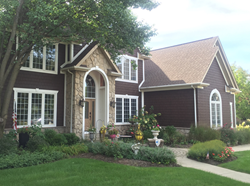 NovikShake installs quickly and easily and won't absorb moisture, so it's perfect for ground contact and at the roofline near the gutters, unlike some materials.-- Tom Leiber, CEO, ProTek Construction
Quebec City, Quebec (PRWEB) November 11, 2016
ProTek Construction in Naperville, Illinois, recently replaced and transformed a stucco exterior by selecting NovikShake with StainNatural™ color technology to create a new, luxurious look befitting the approximately $650,000 home. The homeowner chose NovikShake RS8 in StainNatural's proprietary Walnut color, in a single-course panel that installs more easily than siding, without special tools.
"The NovikShake looks awesome," says Jerry Zimmerman, attorney and homeowner. "Neighbors asked me what stain I chose for the shake and I told them I didn't need to, there's a real wood stain already on the product. It will last indefinitely without the need to reapply or maintain it."
Capitalizing on today's hot trend toward mixed materials on home exteriors, the StainNatural color technology and collection by Novik® provides the only polymer shake in the industry to accept a true semi-transparent stain that enhances the wood-grain texture. NovikShake's StainNatural is available in six rich proprietary colors inspired by nature. NovikShake has a limited lifetime warranty and a 10-year warranty against any fading.
NovikShake can easily upgrade any home's exterior, according to Tom Leiber, CEO of ProTek Construction based in Naperville. "NovikShake installs quickly and easily and won't absorb moisture, so it's perfect for ground contact and at the roofline near the gutters, unlike some materials," says Leiber, "It also stands up to the Chicago area's high winds."
In addition to the shake, his team covered the home's foundation with traditional stone veneer and accented the entryway with veneer and Versatex PVC trim, which was also used around the home's soffits and windows.
Zimmerman said his home went from having non-descript stucco to a rich, luxurious exterior that added more curb appeal and value. His house now stands out in the neighborhood and he can't be more pleased with the rich Walnut color.
As a builder ahead of the trends, Leiber was so happy with the NovikShake and its StainNatural color technology, that he plans to use it for his in-laws' home in Orland Park, Illinois.
Learn more about ProTek at http://www.protekgc.com. For more information about Novik products, visit http://www.novik.com.
About Novik
Novik® is a premier manufacturer of NovikShake™, NovikStone™ and accents that replicate the natural beauty and texture of wood and stone materials NovikShake is accentuated with StainNatural, a proprietary color technology and collection that is an industry first for application of a true semi-transparent wood stain to a polymer shake. At the forefront of technology, Novik offers attainable luxury that is attractive and easy to install. Novik products are a perfect fit for builders, contractors, facility managers and consumers who take pride in the aesthetic appearance of their home or building. For more information, visit http://www.novik.com.