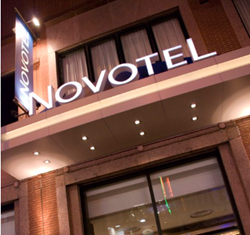 Novotel Hong Kong Nathan Road publishes a new offer on their website, exclusively for Le Club members.
(PRWEB) August 07, 2013
Novotel Hong Kong Nathan Road publishes a new offer, the "Members Enjoys More" promotion on their website which is exclusively for Le Club members. According to the post, Le Club members will be able to choose one from four of the following privileges: 50% off for upgrades to a Premier Room, free daily Wi-Fi, F&B voucher worth HK$50 and late check-out until 2 PM (subject to availability). This offer is available from July 15, 2013 to December 31, 2013.
The hotel is the only 4-star, international hotel situated in Jordan, Kowloon, Hong Kong. Surrounded by must-see attractions, the hotel is the ideal place for business and leisure travelers to experience Hong Kong in a one-of-a-kind trip into the heart of Asia. Exotic cuisines, famous Hong Kong cinema, rich cultural festivities and vibrant nightlife are some of the characteristics that define the city. The hotel is located in the middle of Kowloon's shopping and business district, allowing travelers to walk to attractions or conveniently take the city's MTR (Mass Transit Railway) Jordan station.
Standing at 15 stories tall, Novotel on Nathan Road offers 389 rooms ingeniously designed for a modern, contemporary feel. Offering top-notch facilities and service, the hotel offers comfort for travelers, and in addition, provides services, such as: free internet access and Wi-Fi in lobby areas, 24-hour room service, concierge services, laundry services, limousine services, gymnasium, a children's play area with Xbox games, tour desk and more.
Surrounding the hotel are must-visit attractions and shopping mall. One of the most notable attractions around the hotel is Avenue of Stars. This serves as a great sight-seeing location due to its rich history, showcasing handprints of famous Hong Kong actors and actresses that defined Hong Kong cinema. Avenue of Stars is situated along Tsim Sha Tsui promenade, close to the Victoria Harbour overseeing the city's skyline and is a great vantage point to watch the Symphony of Lights.
Hong Kong cannot be defined without its famous night markets. These markets take place late afternoon and into the night, hosting a myriad of products on display and to purchase. Temple Street Night Market is the most famous night market in Kowloon and is located opposite from the hotel. The market is a great place to pick up bargains for clothing, bags, and accessories as well as electronic items, CDs, watches and more. Additionally, the night market is well-known for alfresco dining and is a great place to try out authentic Hong Kong dishes. Travelers can also enjoy a range of fresh, seafood platters to a variety of delicious hotpot delicacies offered by the local restaurants nearby.
Located in Kowloon, Novotel Hong Kong Nathan Road is the perfect place to be for travelers wanting to experience Hong Kong to the fullest. The culture, food, shopping, performances and history are a few steps away from the hotel which serves as a traveler's home away from home.