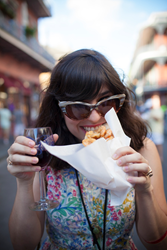 New Orleans, LA (PRWEB) April 18, 2014
The New Orleans Wine & Food Experience is excited to announce its 2014 Seminar Series, as part of the four-day event which takes place May 21 – 24, 2014. As NOWFE celebrates its 22nd year, it continues to bring together world-renowned winemakers, celebrated chefs and industry insiders in a showcase of signature events and seminars designed to educate, entertain and inspire.
The 2014 Seminar Series attendees will discover the hottest trends in wine and food with seminars such as "I Get a Kick from Crémant," learn why Crémant is not just an afterthought or a necessary alternative; "Tour d'Grand Cru," a rare tasting opportunity at which the President of Louis Latour, Bernard Retornaz, will walk attendees through each of the wines, commenting on their superior quality and vintage-specific characteristics; and "Déjà Vu in the Vieux Carré," focusing on the French Quarter's revitalization, renovation and revision of some of the city's most revered dining establishments, as well as newer restaurants that now call a storied Vieux Carré address home.
The 2014 event also includes Wine Dinners hosted by more than 30 New Orleans area restaurants and visiting wine makers; Vinola, NOWFE's premium tasting event; the Royal Street Stroll presented by Rouses, NOWFE's signature event set in the heart of the French Quarter. The weekend culminates with Grand Tastings on Friday and Saturday with a collection of more than 75 chefs under one roof and winemakers and purveyors from approximately 175 wineries showcasing over 1000 wines and serving culinary bites from our region. In addition, at the Saturday Grand Tasting the 8th annual Louisiana Seafood Cook-Off hosted by the Louisiana Seafood Promotion & Marketing Board will crown the "King or Queen of Louisiana Seafood," who will then represent Louisiana in the eighth annual Great American Seafood Cook-Off. This year also marks the third year for the Big Gateaux Show, a pastry competition and tasting at which spectacularly designed cakes will be paired with several high end champagnes, Prosecco, spirits and liqueurs, and celebrity judges and attendees will choose a winner of the $5000 cash prize, courtesy of Swiss Chalet.
Other seminars of the 2014 series include:
Fresh and Dried: The charming Tony Apostolakos of Masi will lead the way through the fresh and dried components of Masi Agricola's Masianco Pinot Grigio, Bonacosta Valpolicella, Campofiorin and Costasera Amarone. Discover the unique qualities between wines made from "fresh" grapes with those made with semi-dried grapes using either the Doppio Fermentzione (Double Fermentation) or Appassimento winemaking techniques.
Talk Dirty to Me: Soil alone does not make great wine. But it is so important that no winemaker underestimates its value. There are physical characteristics about soil at all depths throughout every vineyard in the world, which are key to the quality of the bottled wine. Join winemakers Clay Mauritson, Mauritson Wines, and Jay Somers, J. Christopher Wines, as they dish the scoop on dirt and how different soils in different places can direct a diverse outcome of the same grape. It may not be for the reasons you think!
Postcards from the Kitchen: Embark on a culinary journey with your tour guides: Tory McPhail of Commanders Palace, Stephen Stryjewski of Cochon and Ryan Prewitt of Pêche. Live vicariously through their travels as they discuss the influences their journeys have made in their dishes. Ramey Wine Cellars will be joining the chefs to provide the perfect pairings. Bon Voyage!
The Glass Matters!
Riedel brings 250 years of glassmaking skill to the finest wine glasses in the world. Skeptical that the glassware does indeed impact the quality of the wine? During this guided journey, taste for yourself how the flavors and aromas of wines are enhanced when a glass shape is designed according to the character of the wine. It is an eye opening and amazing experience! To top it off, you will receive a set of Riedel Vinum XL glasses.
Temper Tantrums
Join award winning pastry chef Rhonda Ruckman from the Link Restaurant Group as this culinary expert takes you on a cavalcade through the history of cooking with chocolate, how it has changed and naming names of the best craft chocolatiers in America. In addition, Chef Rhonda will present demonstrations on everything from properly melting each type of chocolate to cream-to-chocolate ratios to sauces, bon-bons, cake and pie fillings. Libations will be paired with each!
Homegrown
Farm names have become like designer labels appearing on menus citywide. Chefs Michael Gulotta (Mopho), Phillip Lopez (Root/Square Root) and Michael Stoltzfus (Coquette) will join forces with specialty farmers from Two Run, Covey Rise, Pelican Produce and Chappapeela to showcase the highest quality products hitting the hottest restaurants.
Simply Sake
Learn how to drink sake like a pro! This guided tasting will explore sake's many myths and misconceptions, how to taste, important terms to look out for, what to expect from different styles, as well as tips on pairing sake with food. Six sakes will be poured, representing a range of different styles and regions, including Tentaka Kuni "Hawk in Heavens" Junmai, Tochigi; Rihaku "Wandering Poet" Junmai Ginjo, Shimane; Fukucho "Moon on the Water" Junmai Ginjo, Hiroshima; Takatenjin "Soul of the Sensei" Junmai Daiginjo, Shizuoka; Konteki "Tears of Dawn" Daiginjo, Kyoto; and Tozai "Snow Maiden" Junmai Nigori, Kyoto.
The Bounty of Sonoma
Join Chris Benziger on a tasting tour exploring the diversity and splendor of Sonoma County. The Benziger's have been farming grapes biodynamically all over Sonoma County for over 3 decades. You will experience everything from the cool Carneros region for chardonnay to the hot pockets of the Mayacamas bench perfect for those Bordeaux beauties and back to the maritime coolness of West County that grow exquisite pinot noir.
For more than 21 years the New Orleans Wine & Food Experience has showcased the culinary excellence in our community alongside national and international wines while raising more than $1 Million for local non-profit organizations. This year, in an effort to fight hunger and support culinary education, Café Reconcile will be the beneficiary of 40% of the event proceeds. The remaining 60% will be shared by the Louisiana Restaurant Association Education Foundation's ProStart Program, Delgado Culinary Arts School, New Orleans Center for the Creative Arts' Culinary Program, the John Folse Culinary Institute and the Edible Schoolyard New Orleans. For additional press information, including downloadable images, contact Liz Bodet 504.583.5550, egoliwas(at)bellsouth(dot)net or visit the media center at http://www.nowfe.com.