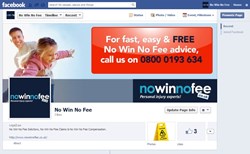 Social media sites provide a platform which makes us more accessible to a wide range of demographics
(PRWEB UK) 2 September 2013
Recognising the importance of social media to modern customers, No Win No Fee have expanded their online presence into the popular networking sites Facebook, Google+ and Twitter. They expect this move to improve access to customers who are becoming increasingly accustomed to making contact with brands through social media, as well as increasing brand awareness and providing regularly updated advice and case studies. You can now visit them on Facebook at https://www.facebook.com/pages/No-Win-No-Fee/444512945656933, on Google+ at https://plus.google.com/109376798636112849915/ and on Twitter at https://twitter.com/UK_NoWinNoFee.
Facebook is the largest social media network, with figures showing 1.15 billion monthly active users as of June 2013 (http://newsroom.fb.com/Key-Facts accessed 29/8/2013). While Twitter and Google+ have not released such up to date figures, both are understood to have at least 500 million registered users, and No Win No Fee's step into these social media outlets is expected to allow them to reach more customers than their website alone.
No Win No Fee spokesperson Lucas Stavrou said: "Social media has become vital to the modern age, with many people interacting with sites like Facebook on a daily or often even an hourly basis, and we felt it was important to use these sites to make our service as accessible as possible. We can now provide advice and guidance through our Facebook and Google+ pages, as well as a constant stream of relevant information on our Twitter account, all of which makes it easier for injured parties to find out whether they are eligible for compensation and to begin the process of making a claim."
No Win No Fee offers a national network of specialists in injury compensation and negligence claims, connecting claimants with the right solicitors for their particular circumstances and injuries. They are a National Law Society & Claims Council member solicitors' network specialising in seeking maximum compensation for anyone who has suffered an injury which was not their fault in the last three years.
Mr. Stavrou continued, "Social media sites provide a platform which makes us more accessible to a wide range of demographics; this means that we can reach people who may not have been aware that they were eligible to claim, and provide them with guidance which is vital when embarking on a legal process. With our increased social presence we will also be able to provide regular updates on news which is relevant to our customers, as well as case studies which they will be able to relate to and advice on making their injury compensation claims."
For more information on No Win No Fee and the services they provide, or to make a claim for injury compensation, visit their website at http://www.nowinnofee.co.uk.