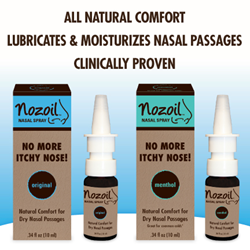 Additionally, research shows that Nozoil® Nasal Spray proves to be more effective than traditional saline sprays.
Warren, MI (PRWEB) February 28, 2014
The makers of Mack's®, the #1 doctor recommended brand of hearing protection products, introduces Nozoil®, a revolutionary new and innovative nasal spray that provides natural comfort for dry nasal passages. Nozoil® Nasal Spray is a unique Swedish formula that is now available for the first time in the United States.
Nasal dryness can affect anyone; many people have nasal mucosa dryness without even being aware of it. Some common causes include illnesses (cold and flu), allergies, medications, dry environments, heating and cooling systems, aging, menopause, and dehydration. Nasal dryness can lead to itching, burning, and even decreased nasal effectiveness. Nozoil® Nasal Spray provides a natural, drug-free solution to moisturize and condition the delicate and sensitive nasal passages. This clinically proven formula uses 100% pure sesame oil, rich in antioxidant Vitamin E, which is supportive in reducing the destructive effect of free radicals. Free from allergy causing proteins, Nozoil® lubricates and moisturizes while providing relief from itchy and burning sensations. Nozoil® application is simple and provides an effective solution. Additionally, research shows that Nozoil® Nasal Spray proves to be more effective than traditional saline sprays.
Nozoil® is available in two different formulas, Original and Menthol. Menthol has all the benefits of the Original variety, and provides a cool sensation for nasal airflow. Both varieties help support your body's natural defenses and are ideal for relieving the discomfort of dry nose. Thanks to Nozoil®, you can now say goodbye to your dry, itchy nose.
About McKeon Products, Inc.
Since 1962, McKeon Products, Inc. has led the retail ear care industry with its original and #1-selling Mack's® Pillow Soft® silicone ear plugs. Mack's® is the #1 doctor recommended ear plug brand in the U.S., with a variety of products designed for sleep, travel, music, swimming and overall noise reduction. Mack's® is also the #1-selling brand of ear plugs and the official ear care line of USA Swimming®.
Today, McKeon manufactures a full range of health care products for consumers, including moldable and pre-molded silicone and foam earplugs for all your hearing protection needs. The Mack's® line of products also includes ear drying aids, earwax removal aids, nasal devices, sleep masks, musicians' ear plugs, ear muffs, and screen and lens wipes. McKeon, an ISO 9001:2008 quality certified company, is committed to supplying the highest quality, innovative products at the lowest possible price.
For more information, please contact:
McKeon Products, Inc.
586-427-7560
http://www.nozoilnasalspray.com