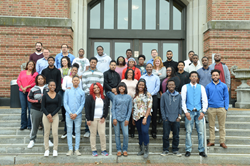 We welcome anyone or any organization to join us as we empower the untapped potential that exists in under-resourced and under-represented portions of our community and prepare these exceptional individuals for promising careers in technology
St. Louis, MO (PRWEB) March 02, 2017
NPower officially celebrates the opening of their St. Louis regional office and IT training center today, located on the campus of Harris-Stowe State University, for their renowned technology training and job placement program. The inaugural class of 27 young adults from the St. Louis metropolitan area recently began the accelerated training program which is designed to result in placement in career-track technology jobs.
The program has run since 2002 in other markets and has resulted in the placement of thousands of young adults from underserved communities and veterans in jobs in technology. The decision to scale to the St. Louis market was initiated as a result of a substantial financial contribution by Fund II Foundation (F2F) as part of a multi-city development partnership with NPower.
NPower St. Louis has also partnered with St. Louis-based technology giant, World Wide Technology (WWT), an NPower National Corporate Underwriter since 2011 to get the program off the ground. "Giving is an integral part of how we operate and how we serve our communities," said David Steward, Chairman and Founder of WWT. "NPower is a collaborative IT partner, helping ease the burden of recruitment on the business end and giving overlooked young adults the tools to become technology professionals with a great deal of potential for success." Matt Horner, Vice President and General Manager, US East, Europe & Asia Pacific at WWT, serves as Vice Chairman of NPower's Board of Directors.
St. Louis native, Trina Clark James, was appointed Regional Director of NPower St. Louis in late 2016. "We have worked hard to establish the training program in St. Louis and our partners have been instrumental in helping us recruit staff and students, source equipment and be introduced to other local partners," said James. She continued, "it truly takes a village to do what we do and we welcome anyone or any organization to join us as we empower the untapped potential that exists in under-resourced and under-represented portions of our community and prepare these exceptional individuals for promising careers in technology."
Staff in St. Louis have been working on building local partnerships with community organizations and leaders to help with recruitment efforts for future program participants and job placement resources for those who will graduate from this first stream in July 2017. As a result of said efforts, NPower St. Louis recently aligned with the St. Louis Regional Business Council (RBC). "A key initiative of the Regional Business Council is to attract and retain diverse professionals in the St. Louis business community," said Kathy Osborn of the RBC. "We are thrilled that NPower has established a presence in our city in order to provide targeted training to young adults interested in IT careers. The specialized programs that NPower provides not only address the technology skills gaps but also the employment gaps in St. Louis. The creation of career pathways for underserved young adults will benefit those most in need but it will also create a local talent pool that our companies can draw from to meet their hiring needs. NPower is just the right program for today's business needs."
NPower St. Louis has also received support from The Rio Vista Fund, Centene Charitable Foundation and Wells Fargo Advisors.
The NPower training program is provided free of charge to qualified students. To qualify, individuals must reside in the greater St. Louis area, be between the ages of 18-25, have earned a high school degree or equivalent and be available for 15 weeks of in-class instruction followed by 7 weeks of paid internship work. For direct access to St. Louis recruitment personnel, potential students should email http://mailto:AdmissionsStLouis@NPower.org or visit npower.org for more information.
NPower St. Louis Ribbon Cutting Event
Thursday, March 2, 2017 @ 2:00 p.m.
Harris-Stowe State University
Henry Givens Administration Building, Main Auditorium
3026 Laclede Avenue, St. Louis, MO 63103
About NPower
NPower creates pathways to economic prosperity by launching digital careers for military veterans and young adults from underserved communities. We empower under-represented talent to pursue tech futures by teaching the digital and professional skills demanded by the marketplace, and engaging corporations, volunteers and nonprofits in the long-term success of our students. Over 80% of NPower graduates are employed full time or enrolled in higher education within one year of completing our program, which is offered at no cost to qualified students.
NPower envisions a future where our domestic technology workforce is diverse, and clear pathways exist for all people regardless of ethnicity, gender, or socio-economic background to succeed in our digital economy. For more information, visit NPower.org and follow us on Facebook, Twitter and Instagram.
About World Wide Technology
World Wide Technology (WWT) is a technology solution provider with more than $9 billion in annual revenue that provides innovative technology and supply chain solutions to large public and private organizations around the globe. While most companies talk about delivering business and technology outcomes, WWT does it. Based in St. Louis, WWT employs more than 4,000 people and operates over 2 million square feet of warehousing, distribution and integration space in more than 20 facilities throughout the world. For more, visit wwt.com.
About St. Louis Regional Business Council
The Regional Business Council is a consortium of Presidents and Chief Executive Officers representing some of the region's largest companies. The mission of the RBC is to unite and engage members to act on high-impact business, civic and philanthropic affairs for the betterment of the St. Louis region.