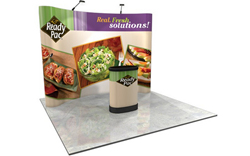 This is one of our most popular pop up displays because it's large, lightweight, and makes a huge impact at events!
Tustin, CA (PRWEB) March 19, 2014
Displays and Exhibits, a premier online retailer of branded trade show display exhibits and accessories, is offering complimentary delivery with the purchase of a 10' Curved Graphic Pop Up Display for the upcoming National Restaurant Association Show (NRA) in Chicago, IL.
The best-selling pop up display promotion gives exhibitors a unique and affordable opportunity to highlight their business while saving big on a superior pop up trade show display.
Displays & Exhibits' standard low-price guarantee and the NRA show free shipping promotion makes the top-of-the-line 10' model a smart buy for brands looking to build their presence on the trade show floor. Giving traveling exhibitors a kick back in transportation fees, this budget-friendly promotion saves participants both time and money during busy trade show preparations.
Showcasing a high-quality graphic and lightweight aluminum structure, this ultra-convenient design is a trade show stand out, and an invaluable addition to any business's marketing strategy. Made in the USA, D&E's 10' Curved Graphic Pop Up Display features a lifetime warranty ensuring use far past the NRA trade show appearance. This versatile investment can be used on and off the trade show floor for maximum return.
Displays & Exhibits offers a large selection of additional marketing materials and accessories, including pop up displays, slatwall panels, hanging signs, iPad kiosks, table top displays and more to accommodate changing brand needs. Working hand-in-hand with small and large organizations alike, D&E provides top quality trade show booth displays that deliver results in every environment.
For more information on this promotion for NRA Show 2014 exhibitors, call (888) 282-8858 or visit http://www.displaysandexhibits.com.
About Displays and Exhibits
Displays and Exhibits is a division of Absolute Exhibits. Established in 2000, Absolute Exhibits began as a portable/modular distributor, and now rents large custom exhibits at over 300 shows in the USA and in countries around the world.
Displays & Exhibits was created to serve the needs of first-time exhibitors, seasoned exhibitors that go to multiple local, regional, national and international shows and clients that do community work, in-house events, fairs, and festivals. The company offers portable banner stands, display boards, digital kiosks, display lights, display signage, and exhibit furniture.