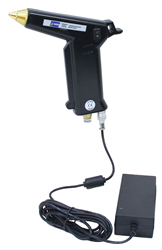 Average annual product losses due to ESD are estimated to be between 27% - 33%.
Grand Island, NY (PRWEB) August 25, 2015
NRD Advanced Static Control now offers a compact, piezo-electric Ionizing Blow-off Gun designed to neutralize harmful electrostatic charge and remove particulate from circuit boards and other sensitive electronics. The Model 6405 Ionizing Blow-off Gun is a lightweight, cost-effective tool suitable for one-man shops or full scale assembly lines.
"Everyone who works with circuit boards or other sensitive electronics knows the damage even a small amount of electrostatic discharge (ESD) can cause," said NRD's Director of Engineering, Greg Gumkowski. "The presence of unwanted static can result in substantial product losses, increased downtime and personal injuries." He points to data from the Electrostatic Discharge Association (ESDA) which estimates average annual product losses due to ESD to be between 27% - 33%. Gumkowski continues, "Using NRD's ionizing blow-off gun can eliminate the costly and unsafe effects of ESD."
Extensive testing has shown the life of NRD's blow-off gun exceeds 10,000 hours of use. It features a removable tip that allows the tungsten emitter pin to be cleaned easily. An LED alarm indicator alerts the operator if the gun is out of function, such as being improperly connected to the gas input source. The gun's light-weight (280g) and ergonomic design makes it less fatiguing for the operator.
The Model 6405 Ionizing Blow-off Gun joins three other products launched in 2015 (two auto-balanced ionizing blowers and an electrostatic field meter) and expands NRD's commitment to offer customers more options for their static control needs and become a single source provider of static elimination solutions.
NRD Advanced Static Control is one of the world's largest and most experienced manufacturers of ionization devices and static eliminators. As the only company that produces both alpha and electrical ionization products, NRD Advanced Static Control has a static elimination device to suit virtually every industrial and electronics application.
For more information, contact Greg Gumkowski at (716)773-7634, ext. 339.