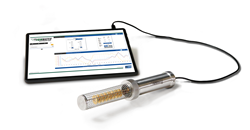 Grand Island, N.Y. (PRWEB) August 15, 2019
NRD, LLC will be exhibiting their newest product, the Ionmaster™ QMS (Quality Management System), to the EOS and ESD community at the 2019 ESDA Symposium, September 16-18, at the Riverside Convention Center in Riverside, CA.
The ESDA Symposium is one of the most important venues for participants to learn, converse, and experience the emerging technologies so it's suiting that NRD will using this opportunity to officially launch their newest product.
NRD's Ionmaster QMS is the next generation ionization system, offering continuous monitoring and storage of the real-time performance characteristic data of ionizers through intuitive, easy-to-use tools and software, providing critical information to your organization.
This patent-pending, wireless monitoring system, the Ionmaster QMS, is the most sophisticated and convenient way to measure positive and negative ion balance and decay performance characteristics of an ionizer – accuracy in real time – allowing corona users to keep their ionizers and bottom line in peak performance.
John Glynn II, Director of Sales, Marketing and Product Development, expresses how, "This monitoring device will revolutionize how ionizer performance is measured."
As a leading static solution supplier, NRD understands the challenges faced by those in the EOS/ESD world and, has by developing a wide breadth of products that supports each customer's unique static control needs with both alpha and corona solutions. During the Symposium, NRD will be providing all static electricity solutions and have their sales representative available at booth #413 to discuss each company's customized solution.
###
About NRD
For 50 years, NRD has been a global supplier of devices that eliminate electrostatic discharge in environments such as R&D, laboratory, technology, industrial applications, and automotive, as well as specialty sources for ECD, IMS, and more. They service each industry and static concern uniquely with a customer-first approach and are the only company in the world that offers both alpha and corona static control solutions.
For more information about NRD, visit https://www.nrdstaticcontrol.com/
Or
Contact us at sales(at)NRDLLC.com and we'll help you find your unique solution.
###
About ESD
Founded in 1982, EOS/ESD Association, Inc is a professional voluntary association dedicated to advancing the theory and practice of electrostatic discharge (ESD) avoidance. From fewer than 100 members, the Association has grown to more than 2,000 members throughout the world. From an initial emphasis on the effects of ESD on electronic components, the Association has broadened its horizons to include areas such as textiles, plastics, web processing, cleanrooms, and graphic arts. To meet the needs of a continually changing environment, the Association is chartered to expand ESD awareness through standards development, educational programs, local chapters, publications, tutorials, certification, and symposia.
For more information, visit https://www.esda.org