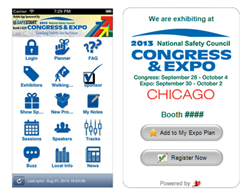 "We could not have done it without the a2z team. Working with such an innovative company allows us to offer the best event experience for many years to come." - National Safety Council
Columbia, MD (PRWEB) March 27, 2014
a2z, Inc., the Maryland-based software company announces that its client, the National Safety Council (NSC) Congress & Expo has won the Expo Magazine's Digital Excellence Award in the Best Tradeshow-Marketing Technology Solution category with the a2z-powered ChirpE Attendee Acquisition Widget.
Expo's Digital Excellence Awards recognized the most outstanding digital initiatives in the event and trade show industry.
NSC's ChirpE products made it to the finalists list in two additional categories at the award: Best Use of a Mobile App for a Tradeshow and Best Onsite Engagement with an App.
The ChirpE Attendee Acquisition Widget enabled NSC to increase clicks to its registration web site by 50 percent, and to more than double the total number of page views on its 2013 event website. The widget generated a total of 1.2 Million Views, 1,367 clicks to the event website and 915 clicks to the registration page.
NSC has been leveraging the ChirpE Mobile & Social Marketing solutions since 2010 to provide a superlative pre-show and onsite experience to its attendees and exhibitors.
"We are honored to be recognized as the winner of the 'Best Tradeshow-Marketing Technology Solution Award' category," said Heidi Mitchell, Sr. Trade Show Marketing Manager, National Safety Council. "We could not have done it without the a2z team. Working with such an innovative company allows us to offer the best event experience for many years to come."
About a2z, Inc.
a2z, Inc. is the producer of the cloud-based ChirpE Mobile & Social Marketing Solutions that are used by hundreds of thousands event participants in North America. a2z, Inc. powers more than 850 leading events every year. a2z's solutions are used by more events on the 2013 Trade Show Executive Gold 100 list than any other exposition and conference management software provider in the industry.
http://www.a2zinc.net
About NSC Congress & Expo
The NSC Congress & Expo is the world's largest annual "must attend" event for safety, health and environmental professionals. For more than 100 years, professionals have turned to this event for industry-leading technology, education, networking opportunities and the tried and true products and services needed to stay at the forefront and remain competitive within the industry.
http://www.congress.nsc.org