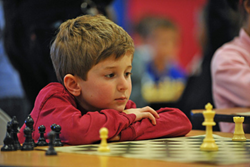 White Plains, NY (PRWEB) February 27, 2015
Registration is now open for the 2015 Westchester County Scholastic Chess Championship being held Saturday, March 14 at Iona Preparatory School, 255 Wilmot Rd. New Rochelle, NY 10804.
The tournament is open to area students from kindergarten through high school with sections organized based upon ability. The event is organized by the National Scholastic Chess Foundation and is part of its 2014-15 Grand Prix chess season which comprises over 20 events throughout Fairfield County, CT and Westchester County, NY.
Students do not have to be residents or attend school in Westchester County to participate; trophies are awarded to the top individual and team performers. In addition, the top player in each of seven grade categories who resides in or attends school in Westchester County will receive a plaque as Westchester County Scholastic Champion. The top Westchester K-3 and 4-up school teams (sum of team scores across the related sections) will also receive plaques.
Competitors must be members of the United States Chess Federation, however, the NSCF has made arrangements for a discounted first year membership fee for new student members.
For more information or to register online, visit the Tournaments Calendar at http://www.NSCFchess.org or telephone 914-683-5322.
About NSCF: Dedicated to improving education and inspiring excellence through chess, the National Scholastic Chess Foundation specializes in curricular chess instruction and offers strategic development support for schools and other partners. With headquarters in White Plains, NY, NSCF offers chess instruction within the curriculum as well as in after school in over 70 schools in 30 different communities in New York and Connecticut. NSCF's founder and executive director is FIDE Master Sunil Weeramantry, a nationally acclaimed instructor who has over 40 years experience teaching, coaching and developing award-winning programs.